Ina Road closure for I-10 interchange improvement a week away
ADOT will maintain business access throughout 25-month closure at I-10
February 8, 2017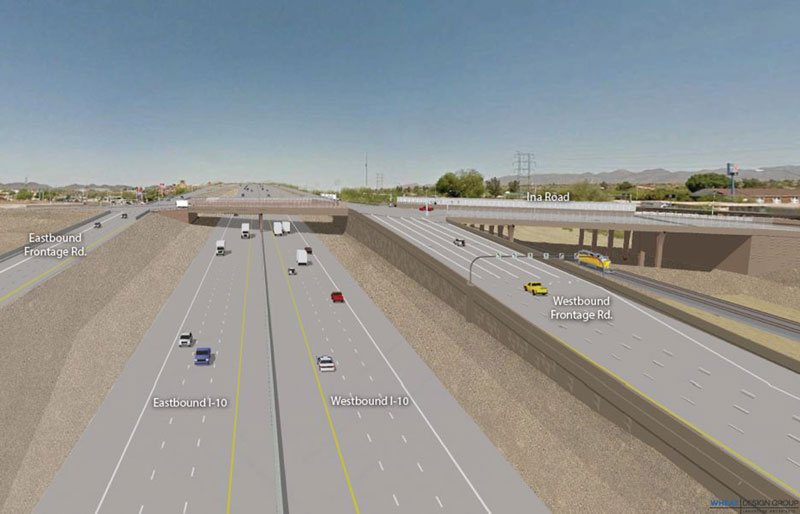 MARANA – While Ina Road will close at Interstate 10 for 25 months starting Wednesday, Feb. 15, the Arizona Department of Transportation is maintaining access to area businesses throughout construction of a modern traffic interchange serving a growing area.
In early 2019, motorists and area businesses will benefit from a bridge carrying Ina Road traffic over both I-10 and the Union Pacific Railroad tracks, with ramps connecting to I-10.
"We are excited about how these changes will make Ina Road safer for drivers, but we also understand that such a large project can create challenges for business owners in the area," said Rod Lane, ADOT's district engineer in Tucson. "We want the community to know that customers can continue to do business with those companies throughout this work."
ADOT and Marana officials are working together to maintain a smooth traffic flow at I-10 on both Cortaro and Orange Grove roads, the interchanges immediately west and east of Ina. ADOT engineers will monitor traffic on both roads and will make changes as needed.
Preliminary work on the $120 million project began last summer. While ADOT is overseeing construction, the Regional Transportation Authority, which is managed by the Pima Association of Governments, is providing funding for the new interchange. In addition, the town of Marana is providing $25 million for work that will widen Ina Road and reconstruct Ina Road bridges over the Santa Cruz River west of I-10.
In addition to the Ina Road closure at I-10 beginning at 1 a.m. Wednesday, Feb. 15:
The westbound I-10 frontage road is scheduled to close between the westbound I-10 on-ramp at Orange Grove Road and Cortaro Road beginning at 1 a.m. on Wednesday, Feb. 15.
Massingale Road will be closed starting Feb. 15 at the westbound I-10 frontage road through late 2018 while the frontage road is reconstructed. Drivers should instead use Camino de Oeste north to Pima Farms Road west to Cerius Stra and Cortaro Farms Road to access the frontage road.
The westbound I-10 frontage road closure north of the Orange Grove Road entrance ramp will remain in effect throughout the project.
The Regional Transportation Authority is offering a MainStreet Business Assistance Program to connect area businesses with resources including consulting services. For more information, visit RTAmobility.com (click on the MainStreet tab), call 520.792.1093 or email [email protected].
The Ina Road overpass will be approximately 25 feet above ground level. Other major improvements include:
Widening I-10 so it can eventually accommodate four lanes of traffic in each direction.
Expanding Ina Road to two lanes in each direction west of I-10; Ina will remain two lanes in each direction east of I-10.
Reconstructing and updating the frontage roads and I-10 on- and off-ramps to meet the new profile of Ina Road.
Constructing two new bridges over the Santa Cruz River west of I-10.
Adding pedestrian underpasses at the two new Santa Cruz River bridges.
Installing landscaping that will draw inspiration from the Sonoran Desert.