Innovative method will slide new SR 79 bridge into place in Florence
Innovative method will slide new SR 79 bridge into place in Florence
FLORENCE - A new bridge will be moved into its permanent home starting this Friday evening in Florence, where crews will work around the clock the following two weekends to slide sections of a new structure in place above the Gila River.
This innovative bridge slide process will require lane restrictions on State Route 79 that are expected to cause delays both weekends. Motorists should plan ahead for the work and consider alternate routes.
The restrictions are scheduled from 8 p.m. Friday, Jan. 13, to 5 a.m. Monday, Jan. 16, and again from 8 p.m. Friday, Jan. 20, through 5 a.m. Monday, Jan. 23. During both weekends, only one lane of traffic will be able to cross the bridge at a time. Temporary signals will be placed at either end of the bridge to regulate traffic.
Crews began work on the new $22.1 million bridge in February 2022 by constructing new piers under the existing structure. Then, new bridge segments were constructed on either side of the existing bridge. Once traffic was shifted to the new sections, the existing bridge in the center was dismantled to make room for the new structure to be slid into place. An animation of the construction phasing and bridge slide is available on the SR 79 project page.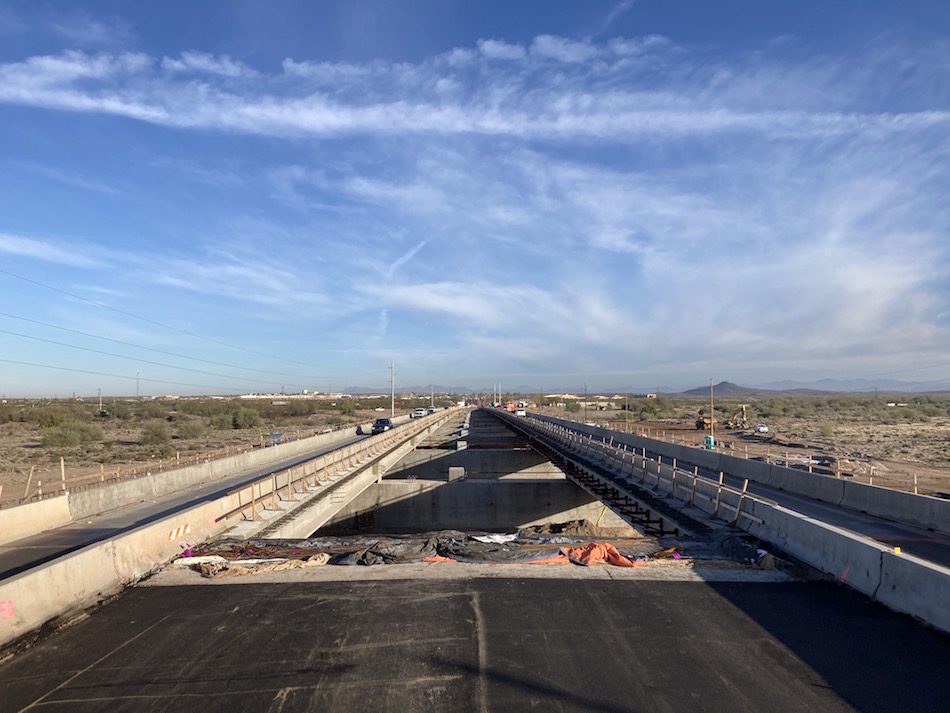 Once the new structure is in place later this month, drivers should expect ongoing construction work on and near the bridge to complete the project. Occasional lane restrictions are possible.
ADOT has used this innovative bridge slide method in the past as one way to reduce construction delays for drivers. In 2020, ADOT replaced the Fourth Street bridge over Interstate 40 in Flagstaff by sliding the new structure in position, one year after a similar project to replace the Bellemont bridges at I-40 and Hughes Avenue west of Flagstaff. 
For more information, please visit the SR 79 bridge replacement project page.