Inventing an inexpensive shield protects ADOT interstate signs from graffiti
Employee innovation exemplifies culture of continuous improvement
November 23, 2016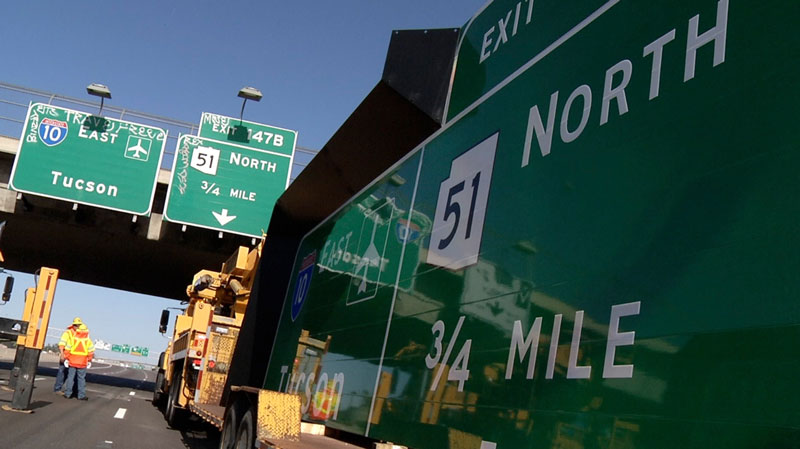 PHOENIX – With graffiti an ongoing threat to interstate freeway signs mounted on overpasses, an Arizona Department of Transportation employee invented an inexpensive metal shield that helps keep vandals and their spray paint at bay.
In ADOT's culture of continuous improvement, this innovation by Interstate Signing Supervisor Dudley Heller is referred to as kaizen, something enhancing productivity, safety, efficiency and more.
Heller's aluminum shield extends diagonally away from the sides of signs like a hood, making it difficult for would-be graffiti artists to reach around
"It's worked quite well," Heller said.
For an investment of $17.50 per square foot, the shields protect taxpayers' investment in signs that cost as much as $10,000 to replace.
The shields protect drivers, as spray paint damages the reflective coating on signs and makes them harder to read at night. They also make things safer for ADOT workers, who'd have to replace damaged signs on overpasses.
So far, ADOT's Transportation Systems Management and Operations Division (TSMO) has installed the shields on signs along freeways including Interstate 10, State Route 51 and US 60 in the Phoenix area and Interstate 19 in Tucson.
"We've saved a lot of money by doing this, not to mention the unsightliness of the graffiti being out there," Heller said.