Latest I-10/Ina Road milestone: Bridge girders over future westbound lanes
Project remains on schedule for early 2019 completion
May 10, 2018
PHOENIX – With bridge girders now set over the future westbound lanes of Interstate 10 at Ina Road in Marana, an Arizona Department of Transportation project creating a modern traffic interchange remains on track for completion in early 2019.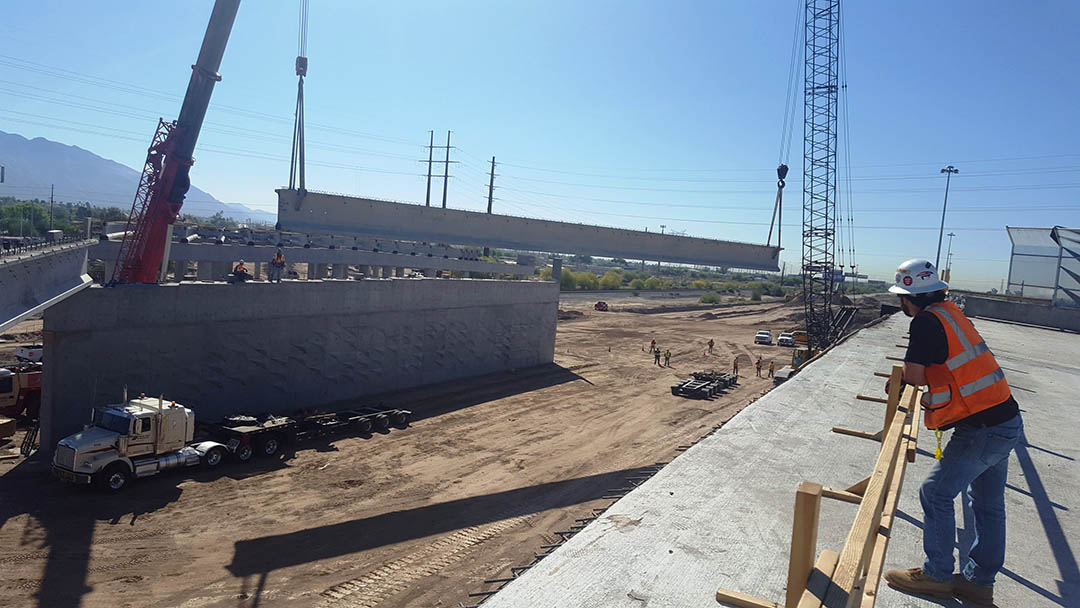 Next up: placing girders the week of May 14 on a bridge that will carry westbound Ina Road traffic over the Santa Cruz River just west of I-10. It's one of two Ina Road bridges that ADOT is building over the river to improve traffic flow in the growing community northwest of Tucson.
Crews finished setting girders over the future westbound lanes of I-10 earlier this month.
With girders in place, crews will continue completing spans that will carry Ina Road traffic over I-10, the Union Pacific Railroad tracks and the Santa Cruz River.
The next expected project milestone: reopening the eastbound frontage road from Starcommerce Way to Ina Road in June.
For now, eastbound and westbound I-10 traffic uses what will be the eastbound lanes, separated by a concrete barrier. Traffic passes under a portion of the bridge, erected earlier in the project, that will be over the eastbound lanes.
ADOT is overseeing the $128 million project, which is funded by the Federal Highway Administration, the Pima Association of Governments and the Regional Transportation Authority. The town of Marana is contributing $7.9 million toward the cost of the new bridges over the Santa Cruz River west of I-10.
While the previous interchange had I-10 passing over Ina Road and traffic having to stop for dozens of trains each day, the new interchange will carry Ina Road traffic over I-10 and the railroad tracks, improving traffic flow. Crews also are widening I-10 to four lanes in each direction at Ina Road.
The project also is expanding Ina Road to two lanes in each direction from I-10 west to Silverbell Road, with two bridges rather than one spanning the Santa Cruz River.