Major work complete on Loop 101 widening project in East Valley
Project has added new lanes, other safety advances to aid commuters
October 26, 2016
PHOENIX – Major work is complete on the Arizona Department of Transportation's $73 million Loop 101 widening project in the East Valley.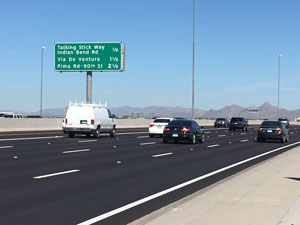 Although final work and some lane restrictions can be expected over the next month, the last scheduled full closure for the project occurred last weekend to allow crews to add permanent lane stripes and complete bridge deck-joint improvements along northbound Loop 101 north of Chaparral Road.
Crews have finished resetting the freeway's speed limit to 65 mph between Shea Boulevard and the Loop 202 (Red Mountain Freeway). For safety's sake, the work zone speed limit had been lowered to 55 mph.
ADOT's 11-mile-long project, which began in August 2014, has widened Loop 101 from four to five travel lanes in each direction, including the existing HOV lanes. Crews also realigned ramps and added new merge lanes between major interchanges to provide more room for drivers to enter or exit the freeway.
Other major Loop 101 improvements include:
Drainage system upgrades
A new layer of smooth, durable rubberized asphalt across all travel lanes
New overhead message signs to advise drivers of traffic conditions or incidents
New freeway signs and center median pole-mounted LED lighting
Closed-circuit digital traffic cameras for tracking traffic conditions
New or updated landscaping, including hundreds of salvaged plants and cactuses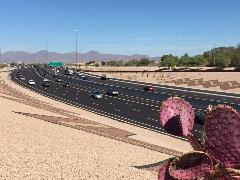 The project's schedule was set in advance of the start of construction to avoid conflicts with major events in the Scottsdale area and the Phoenix region. For example, freeway and ramp closures were not allowed when Super Bowl events, Cactus League baseball and the Waste Management Phoenix Open golf tournament were taking place.
ADOT project staff shared information with local residents and businesses, and met regularly with representatives from the city of Scottsdale and the Salt River Pima-Maricopa Indian Community to discuss the Loop 101 project's scheduled work, traffic restrictions and planned detour routes.
Crews are now scheduled to complete other work, including drainage system improvements and the installation of Americans with Disabilities Act-sanctioned wheelchair ramps along local cross-street sidewalks, in November.
The Loop 101 Improvement Project is part of the Maricopa Association of Governments' Regional Transportation Plan approved by county voters in 2004. Funding sources include a countywide half-cent sales tax for transportation projects and the MAG region's share of state and federal highway funds.