More of Pecos Road shifting as South Mountain Freeway advances
40th Street closing temporarily through work zone for interchange construction
May 9, 2019
PHOENIX – Another section of Pecos Road in Ahwatukee is closing permanently as traffic moves onto the future Loop 202 South Mountain Freeway's westbound lanes between 32nd Street and the Interstate 10/Loop 202 Santan Freeway interchange. Meanwhile, 40th Street is closing temporarily through the work zone to accommodate interchange construction.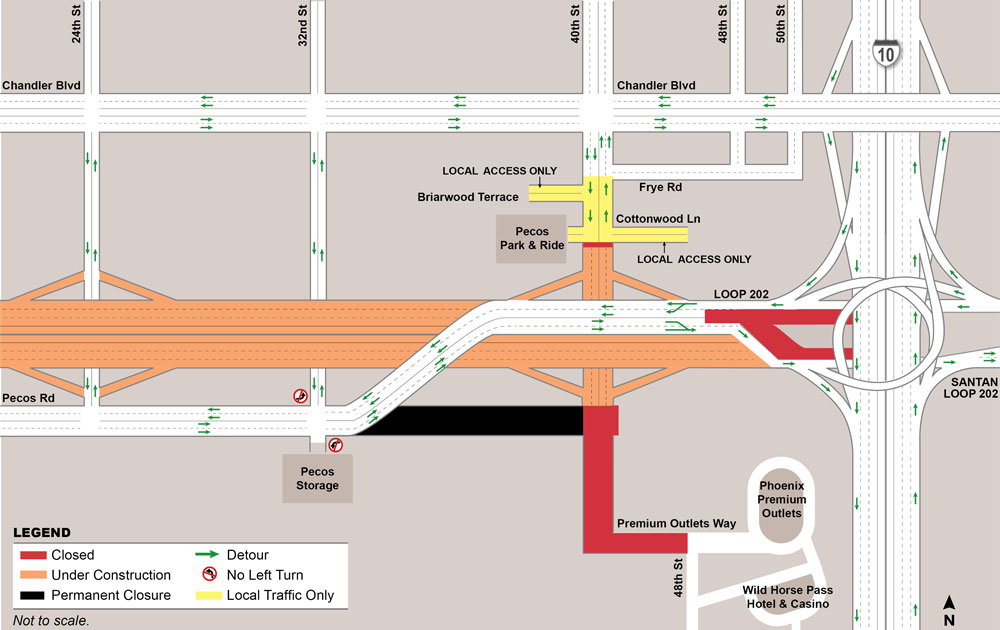 To set up these changes, Pecos Road between 24th Street and I-10, along with 40th Street south of Cottonwood Lane, will be closed from 7 p.m. Sunday, May 12, to 5 a.m. Monday, May 13. Pecos Road traffic will then be moved onto the South Mountain Freeway prior to the Monday morning commute.
East-west traffic will remain on this section of Loop 202 in a temporary configuration, with two lanes in each direction, until the freeway opens.
This is the second shift of Pecos Road traffic onto the South Mountain Freeway. In February, Pecos Road traffic moved onto the freeway's future eastbound lanes between 17th Avenue and Desert Foothills Parkway.
With 40th Street scheduled to be closed south of Cottonwood Lane until September, alternate north-south routes include I-10 and 24th and 32nd streets. Motorists will be able to access the 40th Street/Pecos Park-and-Ride by using 40th Street from the north, and those traveling to Wild Horse Pass Hotel and Casino and the Phoenix Premium Outlets should take I-10 to Wild Horse Pass Boulevard.
Crews also will be paving the on- and off-ramps for the 40th Street interchange, making cross-street improvements, installing new traffic signals and completing additional grading and drainage work.
The 22-mile South Mountain Freeway is scheduled for full completion in 2020, although traffic is expected to be using the freeway earlier. It will provide a long-planned direct link between the East Valley and West Valley and a much-needed alternative to I-10 through downtown Phoenix. Approved by Maricopa County voters in 1985 and again in 2004 as part of a comprehensive regional transportation plan, the South Mountain Freeway will complete the Loop 202 and Loop 101 freeway system in the Valley.
You can stay informed about the South Mountain Freeway project and sign up for updates and weekly traffic alerts at SouthMountainFreeway.com.