Motorists now using SR 347 overpass in heart of Maricopa
ADOT is improving mobility and safety in a fast-growing community
July 15, 2019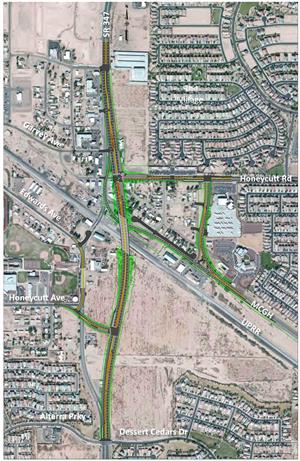 PHOENIX – As an Arizona Department of Transportation project moves toward completion along State Route 347 in the heart of the fast-growing city of Maricopa, motorists are now benefiting from the centerpiece of this work: a 500-foot-long bridge carrying traffic over the Union Pacific Railroad tracks.
On Monday, about 2 miles of SR 347 shifted to a new alignment between Hathaway Avenue on the north and Desert Cedars Drive on the south, with motorists and pedestrians using an overpass that replaces an at-grade crossing where dozens of trains stopped traffic each day.
SR 347 is Maricopa's main transportation corridor and serves as a regional connector to major employment and recreation. Traffic averages more than 31,000 vehicles per day and is expected to reach 60,000 vehicles per day in 2040.
The project, which is about 80 percent complete, remains on track to finish as scheduled by late this year. Remaining work includes removing the former at-grade railroad crossing, widening Maricopa-Casa Grande Highway between the overpass and Plainview Street and completing additional landscaping and medians.
While the overpass will have three lanes in each direction when construction ends, for now it offer two lanes each way and at times will be reduced to one lane in specific locations. The area remains a construction zone with a reduced speed limit and restrictions. Motorists should continue proceeding through the area with caution.
A $15 million federal Transportation Investment Generating Economic Recovery (TIGER) grant covered a portion of the project's $55 million cost, with Maricopa contributing about $14 million.