Pecos Road traffic shift scheduled prior to April 3 morning commute
Consecutive weekend restrictions needed along Pecos Road to prepare for traffic shift
March 23, 2017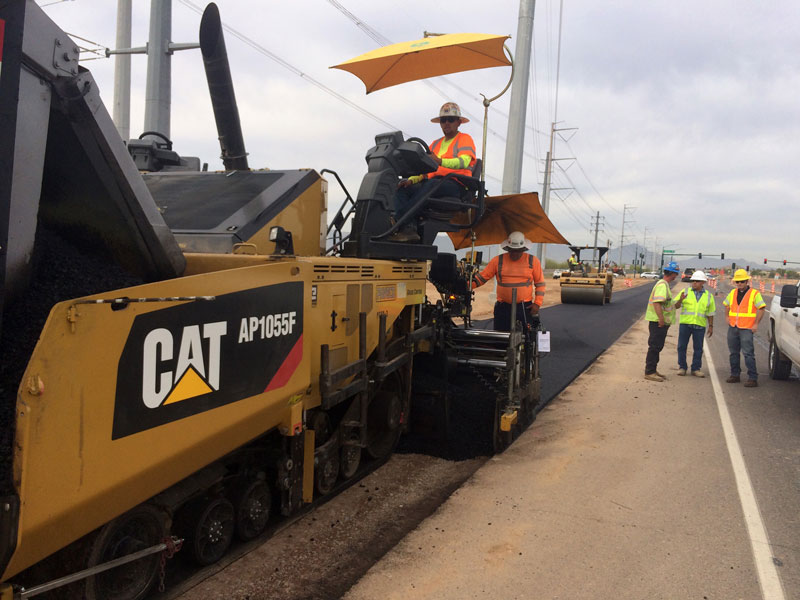 PHOENIX – Pecos Road traffic between 24th and 40th streets is scheduled to shift early Monday, April 3, to an alignment designed to maintain Ahwatukee Foothills traffic during Loop 202 South Mountain Freeway construction.
The current eastbound lanes of Pecos Road in this stretch will be widened and restriped over the next two weeks to maintain two lanes of traffic in each direction. This shift creates a safe work zone for construction of the mainline freeway as the westbound lanes will be permanently removed because they are located within the freeway footprint.
Recently, crews have cleared and graded the median and area of the new Pecos Road alignment to create a level surface that allowed paving to start this week.
To shift to the new alignment on April 3, the following lane closures and restrictions will be in place from 9 p.m. Friday, March 24, to 5 a.m. Monday, March 27, and 9 p.m. Friday, March 31, to 5 a.m. Monday, April 3, to remove existing traffic signals and install temporary signals, restripe the roadway and place barricades:
Eastbound Pecos Road closed between 24th and 40th streets, with Chandler Boulevard as alternate route
Westbound Pecos Road narrowed to one lane between 24th and 40th streets
Access to Pecos Storage will be maintained at 32nd Street during this work.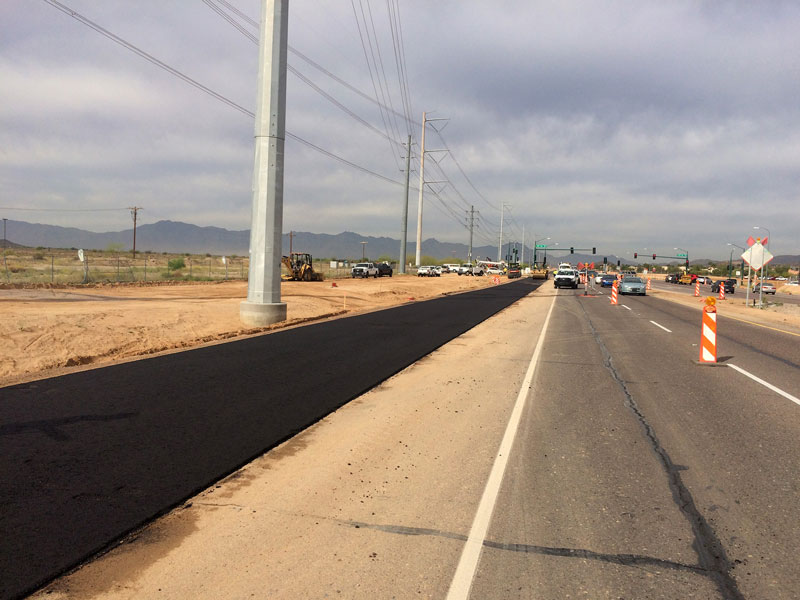 When the new Pecos Road alignment is complete, the speed limit will be reduced to 40 mph to accommodate two-way traffic. There will be no shoulders, and a double yellow line will separate directions of travel.
In addition, left-hand turn movements from eastbound and westbound Pecos Road at 32nd Street will be prohibited after the left-hand turn lanes are removed permanently prior to the April 3 traffic shift to accommodate freeway construction.
Lane restrictions and periodic closures of the new Pecos Road alignment will be necessary at times during freeway construction. Motorists may also want to consider alternate routes, such as Ray Road or Chandler Boulevard.
Once freeway construction is complete in the Pecos segment, traffic will move to the new freeway lanes in the final stages of construction. The entire South Mountain Freeway is scheduled to open in late 2019.
The South Mountain Freeway will provide a long-planned direct link between the East Valley and West Valley and a much-needed alternative to Interstate 10 through downtown Phoenix. Approved by Maricopa County voters in 1985 and again in 2004 as part of a comprehensive regional transportation plan, it will complete the Loop 202 and Loop 101 freeway system.
You can stay informed about the South Mountain Freeway project and sign up for updates and weekly traffic alerts at SouthMountainFreeway.com.