Pointing south! ADOT launches project to build final phase of Loop 303/I-10 connection in Goodyear
Initial work on south half of interchange has started
February 22, 2016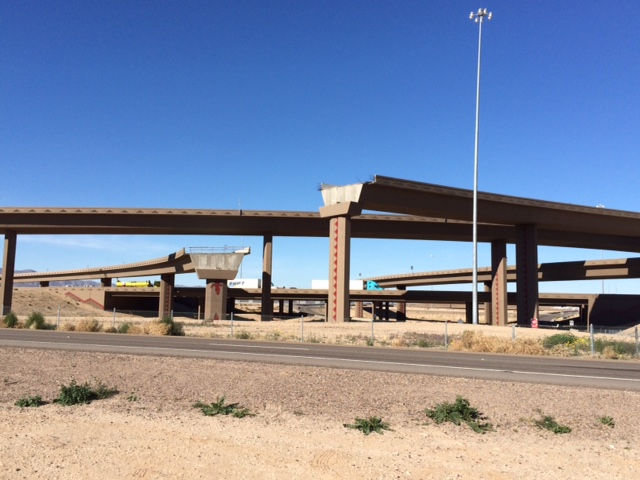 PHOENIX – Work to complete the freeway-to-freeway interchange linking Loop 303 with Interstate 10 in Goodyear is underway this week, according to the Arizona Department of Transportation.
As part of the $83 million project to build the south half of the traffic interchange, crews will complete the four remaining ramps to connect the two freeways and extend Loop 303 south to Van Buren Street. The improvements also will allow traffic to make connections between Loop 303 and Cotton Lane south of Van Buren Street.
The project is the second of two phases to construct the interchange and is scheduled to be completed by early 2018.
The north half of the interchange, which opened to traffic in August 2014, already allows drivers to save travel time by making direct connections on the ramps between I-10 and Loop 303 north of the interstate.
In the initial stages of the new project, crews will work on building a paved construction-bypass route along Van Buren Street near Cotton Lane. The temporary lanes will allow Van Buren Street traffic to use a curved detour route around freeway bridge construction. The bypass will limit restrictions and allow crews to safely build a new Loop 303 bridge over Van Buren Street without traffic traveling directly under the structure.
The first stage of work also will focus on construction of the westbound I-10 to southbound Loop 303 ramp and the northbound Loop 303 to westbound I-10 ramp. The project also will add ramps connecting eastbound I-10 to southbound Loop 303 as well as northbound Loop 303 to eastbound I-10.
The improvement work will require temporary lane restrictions and closures near the interchange. Portions of the I-10 frontage roads in areas between Sarival Avenue and Citrus Road will be closed at times.
The project also will add a top layer of smooth rubberized asphalt on I-10 in the area of the Loop 303 interchange.
Funding for the new project is provided through the Maricopa Association of Governments' Regional Transportation Plan approved by county voters in 2004. Sources of construction funds in the regional plan include a local half-cent sales tax for transportation and the Phoenix region's share of federal highway funds.