Project creating new I-10/Ina Road interchange moving forward
Contract awarded for construction; two-year Ina Road closure begins Feb. 15
December 20, 2016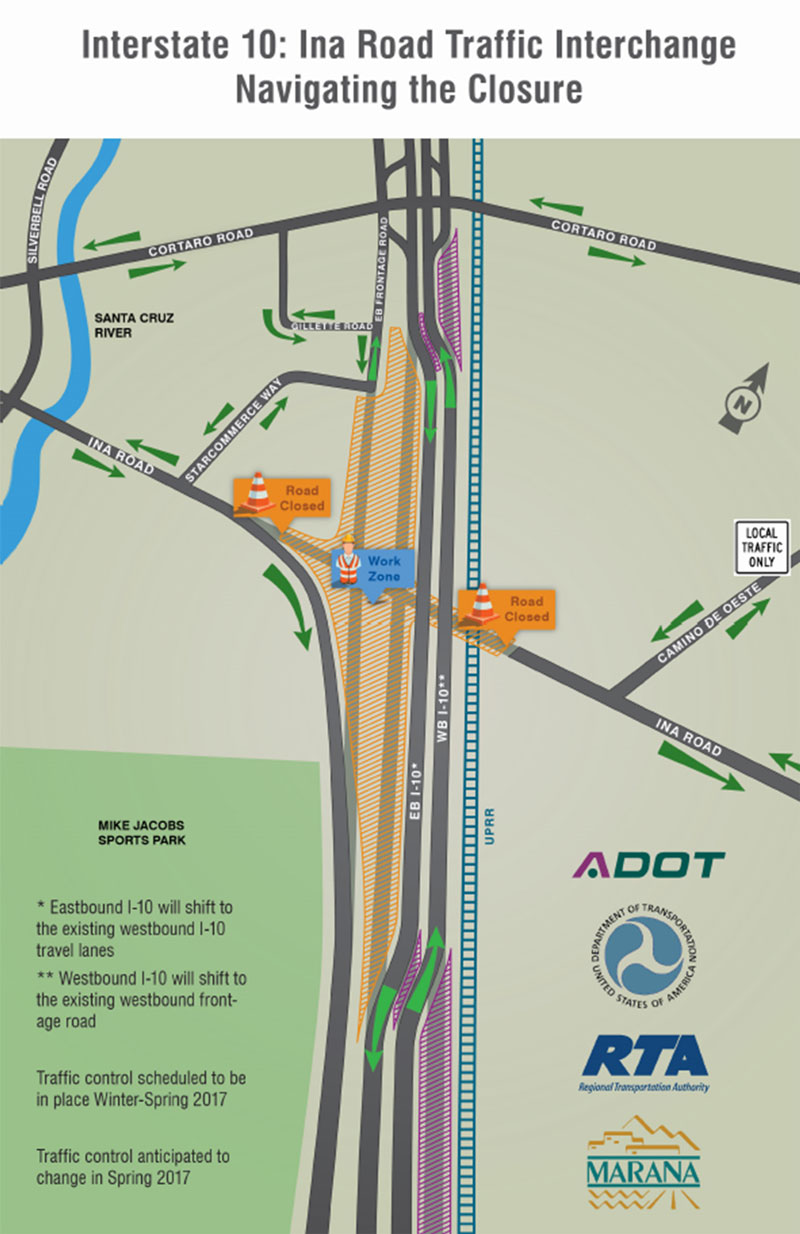 MARANA ‒ The Arizona Department of Transportation is moving toward the next phase of creating a modern Ina Road interchange with Interstate 10 in the growing community of Marana northwest of Tucson.
The project, with a total construction cost of $148 million, will relieve traffic congestion by widening I-10 and by carrying a widened Ina Road over Union Pacific tracks that carry between 40 and 60 trains a day.
"When we complete this project, this area will be better for drivers because they no longer will need to wait for trains or cross the tracks on their way to work," said Rod Lane, district engineer for the Arizona Department of Transportation's South Central District. "The added lanes on both Ina Road and I-10 should allow traffic to move through the area more efficiently."
Last week, the Arizona State Transportation Board approved a contract for Sundt/Kiewit, A Joint Venture, to move forward with construction after six months of preliminary work.
Ina Road will close at I-10 on Feb. 15 and is scheduled to remain closed for a little more than two years. During this time, I-10 will be shifted through the work zone, and drivers who ordinarily would enter and exit I-10 at Ina Road should consider using Cortaro or Orange Grove roads (click on the graphic to see the map at full size).
Access to businesses will be maintained throughout.
The project is funded by the Regional Transportation Authority, managed by the Pima Association of Governments. In addition, the Town of Marana is providing $25 million for work that will widen Ina Road and reconstruct Ina Road bridges over the Santa Cruz River west of I-10.
ADOT is managing the project.
Preliminary construction began last summer with utility work, improvements to frontage roads and construction of a ramp from Ina Road to the westbound frontage road. Ina Road has remained open at I-10 but has been restricted to a single lane in each direction.
In addition to an Ina Road overpass that will be approximately 25 feet above ground level, other major improvements include:
Widening I-10 so it can eventually accommodate four lanes of traffic in each direction.
Expanding Ina Road to two lanes in each direction; Ina currently is one lane in each direction west of I-10 and two lanes in each direction east of I-10.
Reconstructing and updating frontage roads and entrance and exit ramps to meet the new profile of Ina Road.
Landscaping along the project area that will draw inspiration from the Sonoran Desert.
The project includes reconstructing the Ina Road bridges over the Santa Cruz River. This work will close the Pima County Loop Trail, south of Ina Road at Ted Walker Road and north of Ina Road at the Crossroads at Silverbell District Park, for approximately two years beginning in mid-January. When the trail reopens, there will be underpasses on each side of the Santa Cruz River, new access ramps to Ina Road and new bike lanes and sidewalks along Ina Road.