South Mountain Freeway construction scheduled at I-10/Loop 202 interchange
Preliminary work will extend HOV lane, widen shoulders, start plant salvage
September 15, 2016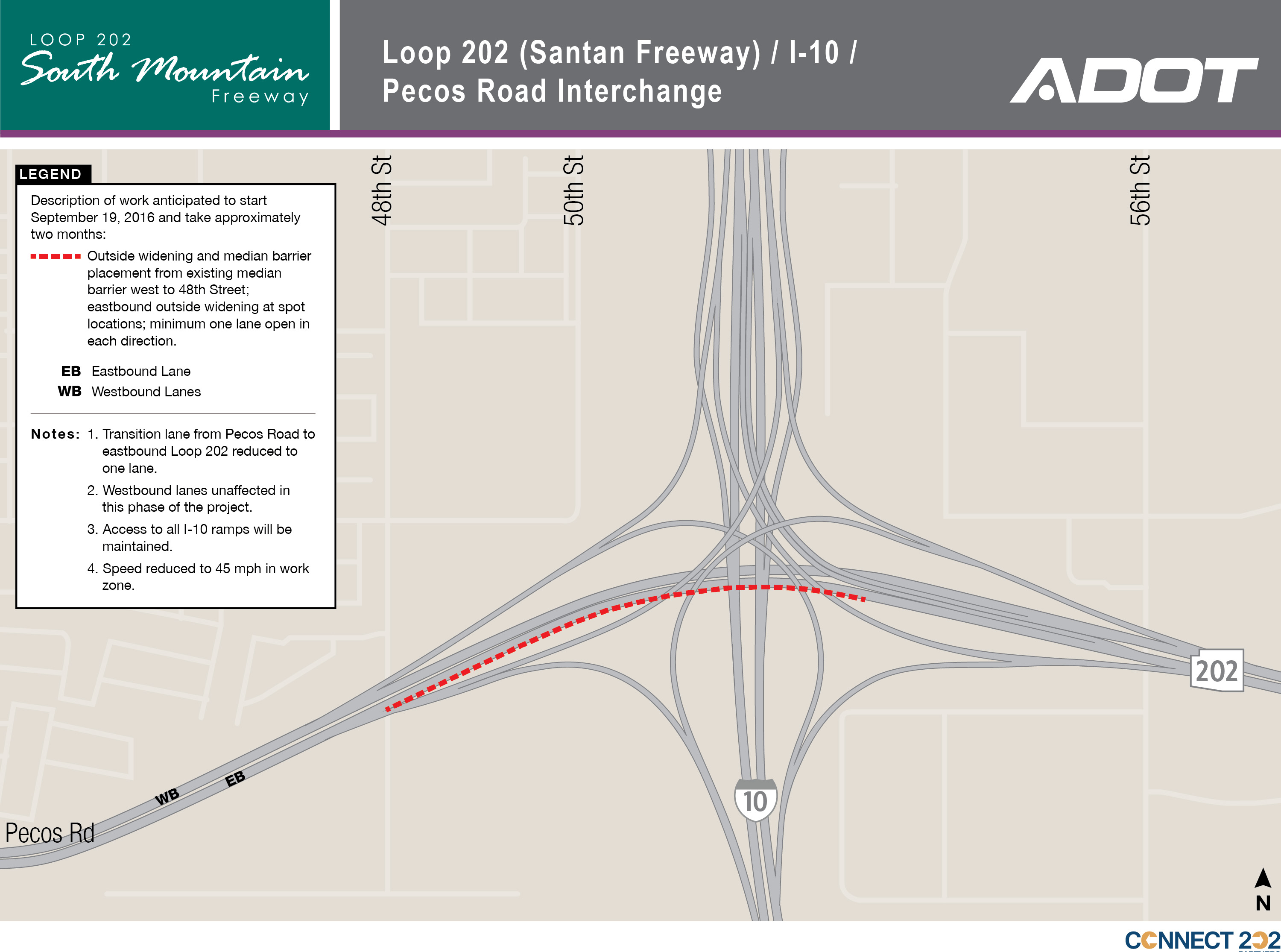 PHOENIX – The first phase of construction on the Loop 202 South Mountain Freeway will begin on Monday, Sept. 19, with improvements at the Interstate 10/Loop 202 (Santan Freeway) interchange in the East Valley.
The Arizona Department of Transportation project will widen the shoulders and extend the existing Loop 202 high-occupancy vehicle lanes from Pecos Road near 48th Street to the I-10/Loop 202 interchange. Crews will start Monday night by placing temporary concrete barriers through the work zone prior to the Tuesday morning's rush hour traffic.
This initial phase of construction at the I-10/Loop 202 interchange will be completed prior to work starting on the mainline freeway, which is scheduled to begin in early 2017.
One lane of eastbound Pecos Road traffic traveling to eastbound Loop 202 will be maintained during this initial construction phase and will include reduced shoulders. Westbound traffic will not be affected initially.
Drivers should be prepared to slow down and merge safely in the work zone. The posted speed limit will be 45 mph.
Completing this phase of work by the end of the year will allow crews to start on a detour route along Pecos Road for when freeway construction is occurring on the current alignment of westbound Pecos Road. ADOT will widen the existing eastbound Pecos Road lanes to maintain two-way traffic flow during all phases of construction.
When construction of the mainline freeway begins early next year, all Pecos Road traffic will be temporarily shifted to the eastbound lanes for approximately two years, and two lanes of traffic in each direction will be maintained at most times during construction, with the exception of periodic traffic restrictions at intersections with cross streets.
In addition to the early construction, crews started this week taking inventory of native plants along the Pecos Road right of way that can be removed, stored, maintained and eventually replanted in their permanent locations upon completion of roadway segments. Over the next two months, salvageable plants will be relocated to a temporary nursery.
The 22-mile freeway, expected to open by late 2019, will provide a long-planned direct link between the East Valley and West Valley and a much-needed alternative to Interstate 10 through downtown Phoenix. Approved by Maricopa County voters in 1985 and again in 2004 as part of a comprehensive regional transportation plan, the South Mountain Freeway will complete the Loop 202 and Loop 101 freeway system in the Valley.
The South Mountain Freeway will be constructed with four lanes in each direction – three general-use lanes and one HOV lane – and include modern features including rubberized asphalt and aesthetics reflecting the neighboring communities.
For more information, visit SouthMountainFreeway.com.