South Mountain Freeway sound wall 'fins' start to take shape
Frank Lloyd Wright's early work in Arizona influences freeway aesthetics
August 2, 2018
PHOENIX – Shark Week may be history, but you can see fins along a stretch of the emerging Loop 202 South Mountain Freeway in Ahwatukee.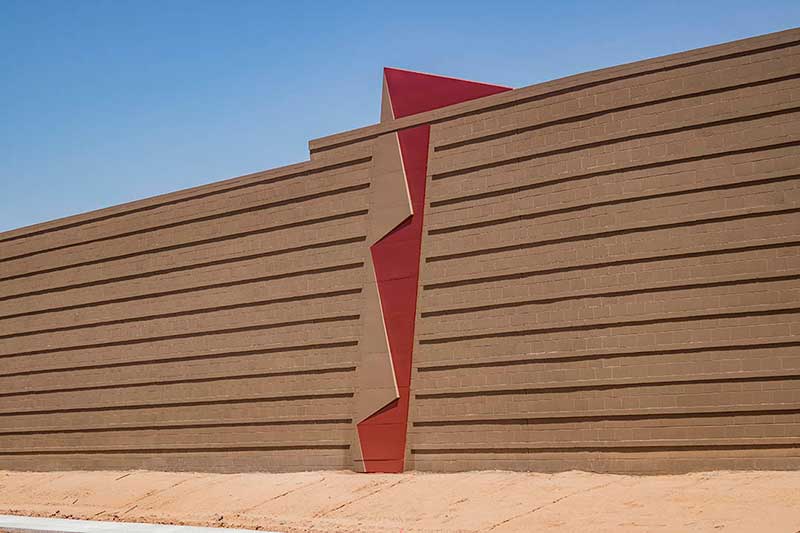 Standing at intervals atop the sound wall between 40th and 48th streets, these custom-designed panels resembling fins are decorative accents inspired by some of modern architect Frank Lloyd Wright's early work in Arizona. They're painted a reddish accent color that extends in a saw-toothed pattern down the sound wall and also appears on retaining walls, abutments and bridge barriers in the area.
These accents are a throwback to Wright's design experimentations from his late 1920s desert winter encampment, known as the Ocatillo Settlement that was located about a half mile from the current freeway alignment near 32nd Street.
The architecture at Wright's camp included triangular wood and canvas-clad structures rising above low wooden walls with horizontal bands, according to Joseph Salazar, the Arizona Department of Transportation's roadside development, project landscape and architecture coordinator.
"The accents are designed to give a sense of rhythm and movement to travelers on the freeway. The fins angle into the line of travel, adding a sense of dynamism and direction to the roadway," Salazar said. "The angles of the accents loosely reflect the geometry of the South Mountains in a similar way to how Frank Lloyd Wright geometrically interpreted the mountain in his Ocatillo camp.
"The top edge of the sound walls' major accents, for example, alludes to the bold shape of the mountain when viewed against the broad horizontals of the distant desert landscape," he added.
More than 60 painted precast concrete fins will be placed periodically depending on the grade of the freeway. On flatter stretches the fins are farther apart, while on steeper stretches they are closer together.
There are multiple character areas along the freeway and equal treatment for each segment, including the Ocatillo Settlement pattern between Ahwatukee Foothills and the Interstate 10/Loop 202 interchange, which features simple materials and patterns on architectural features that celebrate that area's desert landscape and vegetation.
ADOT and Connect 202 Partners, the developer of the South Mountain Freeway, collaborated with the Frank Lloyd Wright Foundation on aesthetic patterns prior to construction.
The South Mountain Freeway will provide a long-planned direct link between the East Valley and West Valley and a much-needed alternative to I-10 through downtown Phoenix. Approved by Maricopa County voters in 1985 and again in 2004 as part of a comprehensive regional transportation plan, the South Mountain Freeway will complete the Loop 202 and Loop 101 freeway system in the Valley.
For more information on the South Mountain Freeway, visit SouthMountainFreeway.com.