South Mountain Freeway work to close Pecos Road entrance at Ahwatukee park-and-ride
40th Street entrances will remain available to commuters
January 4, 2017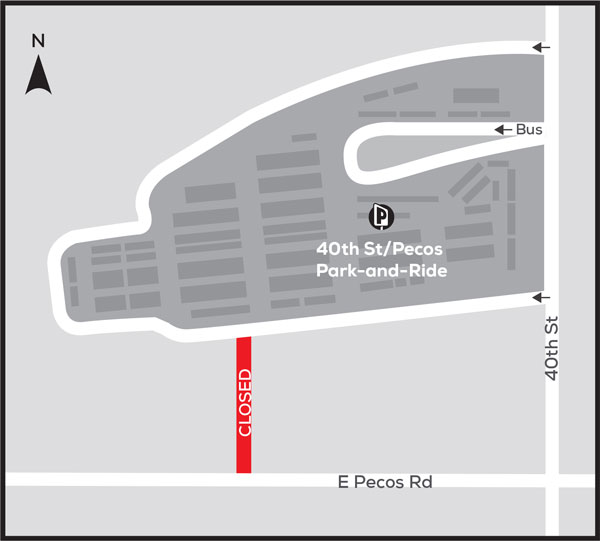 PHOENIX – Preliminary work on the Loop 202 South Mountain Freeway will require permanently closing the Pecos Road entrance to the 40th Street/Pecos Road Park-and-Ride location, which will remain accessible via 40th Street. The Pecos Road entrance will close late Friday, Jan. 13.
The Arizona Department of Transportation and Connect 202 Partners, the developer responsible for the 22-mile-long freeway corridor, will soon start work to convert the current eastbound lanes of Pecos Road to carry traffic in both directions during construction of the freeway.
The park-and-ride turn lanes along Pecos Road (located along the south end of the park-and-ride) will be permanently closed, as they are located in the future freeway's path.
As part of its commitment to the community and public transportation, ADOT is working closely with the Phoenix Public Transit Department, the largest member of the Valley Metro regional transit system, to ensure that service at the park-and-ride won't be interrupted. On a typical weekday, the 40th Street/Pecos Road Park-and-Ride accommodates more than 400 vehicles.
You can stay informed on the South Mountain Freeway project and sign up for updates and weekly traffic alerts at SouthMountainFreeway.com. More than 10,000 people have already signed up for traffic alerts.
Drivers should proceed through the work zone with caution, slow down and watch for construction equipment and personnel.
The South Mountain Freeway will provide a long-planned direct link between the East Valley and West Valley and a much-needed alternative to Interstate 10 through downtown Phoenix. Approved by Maricopa County voters in 1985 and again in 2004 as part of a comprehensive regional transportation plan, the South Mountain Freeway will complete the Loop 202 and Loop 101 freeway system in the Valley.
For more information, visit SouthMountainFreeway.com.