Southern Avenue reopens in Laveen as South Mountain Freeway progresses
Crews complete first phase of interchange construction
March 26, 2018
PHOENIX – After four months of construction, Southern Avenue reopened Monday between 61st Drive and 64th Avenue in Laveen after completion of the first phase of work on a Loop 202 South Mountain Freeway interchange.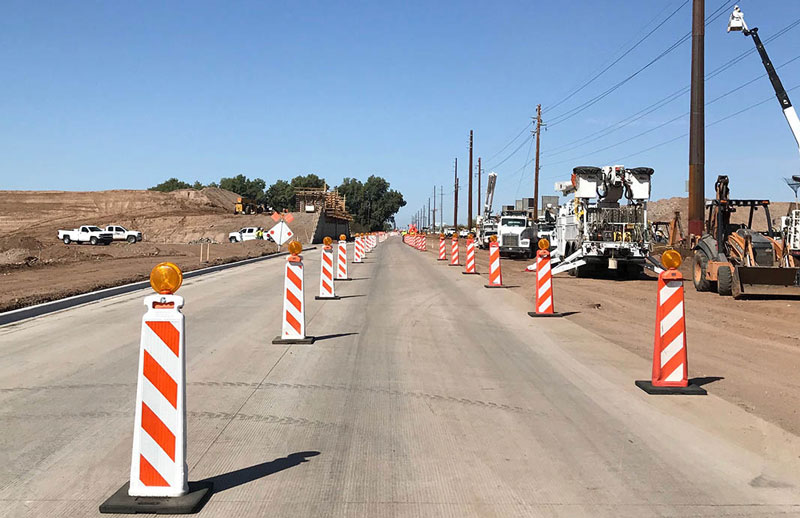 During the closure, which began Nov. 27, crews with Connect 202 Partners, developer of the South Mountain Freeway, safely moved more than 450,000 cubic yards of earth without having to cross local traffic while building the southern half of the interchange, one of 13 on the 22-mile freeway.
"The closure allowed the Arizona Department of Transportation to accelerate construction and keep us on track toward opening the South Mountain Freeway by late 2019," said ADOT Resident Engineer Adam Brahm, who oversees the Salt River segment of construction on the South Mountain Freeway. "While closing Southern Avenue was certainly impactful to Laveen motorists in the last few months, in the long run this freeway will alleviate some of the growing traffic congestion on local roadways."
In addition to the extensive earthwork, crews have completed substantial work below grade, including installing underground utilities and drainage structures. Crews also have built columns, abutments and retaining walls that will support a 125-foot-long bridge. They also have repaved Southern Avenue.
With the southern half of the interchange complete, crews can now start work on the northern half of the interchange while traffic uses the newly paved eastbound lanes that motorists will share until all work is completed. Remaining work includes paving the ramps and mainline freeway, installing signage, constructing retaining walls, finishing construction of the Southern Avenue bridge, completing final striping and adding landscaping.
Occasional overnight closures will be needed to place bridge girders and pour the bridge deck.
With Southern Avenue reopened, construction on the Baseline Road interchange is expected to pick up in April. An extended closure of Baseline Road isn't needed, but there will be intermittent closures to place bridge girders and pour the bridge deck in the future.
The South Mountain Freeway will provide a long-planned direct link between the East Valley and West Valley and a much-needed alternative to I-10 through downtown Phoenix. Approved by Maricopa County voters in 1985 and again in 2004 as part of a comprehensive regional transportation plan, the South Mountain Freeway will complete the Loop 202 and Loop 101 freeway system in the Valley.
For more information on the South Mountain Freeway, visit SouthMountainFreeway.com.