SR 189 improvements will pave way for improved international commerce
State appropriation of $25 million helps accelerate project to 2019
September 26, 2016
NOGALES – A project to make it easier for ever-increasing international commerce to move through Nogales will begin in 2019, two years ahead of schedule, under changes approved by the Arizona State Transportation Board.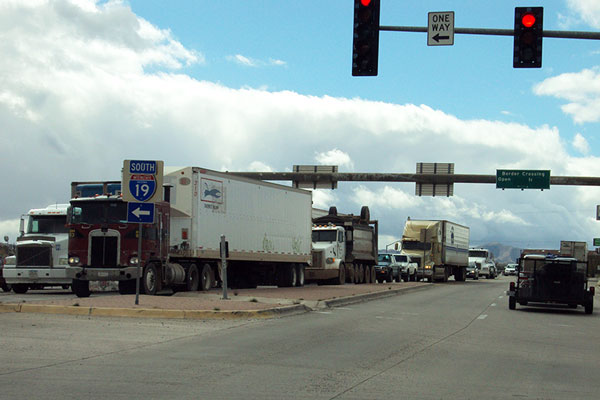 A $25 million appropriation passed by the Arizona Legislature and signed by Governor Doug Ducey aimed at accelerating this project made it possible for work to start earlier than originally planned. In addition, $40 million in federal funds will go toward SR 189 improvements approved to begin in 2019.
The project will improve a 3.75-mile section of State Route 189 in Nogales and build a flyover ramp connecting SR 189 to northbound Interstate 19. It includes work between the Mariposa Port of Entry and Grand Avenue, including the interchange at I-19.
The Mariposa Port of Entry in Nogales is among the nation's busiest, serving as the gateway for most of the winter produce entering the U.S. and as a major hub for trade between Arizona and Mexico, estimated at $30 billion annually.
"Mexico is Arizona's largest international trading partner, and improving how trade moves along this critical route in Nogales will help grow Arizona's economy," Governor Doug Ducey said. "Getting this work started sooner is another way Arizona is moving at the speed of business."
The plans for SR 189, known locally as Mariposa Road, also include:
widening the exit ramp from southbound I-19 to SR 189;
a raised median along SR 189;
and improvements at the intersections with Grand Avenue and at Target Range Road.
"These improvements to SR 189 are essential because the Mariposa Port of Entry is one of the busiest ports along the U.S.-Mexico border," ADOT Director John Halikowski said. "SR 189 may be one of the shortest routes on the state's highway system, but it is one of the most critical when it comes to commerce and trade."
At their Sept. 16 meeting in Bullhead City, members of the State Transportation Board encouraged ADOT staff to look for ways to pay for additional improvements to SR 189, including a new ramp for traffic on southbound I-19 to enter southbound SR 189. Funding for those improvements, estimated to cost up to $75 million, isn't currently available.
One option is a public-private partnership similar to the one being used to build the Loop 202 South Mountain Freeway in Phoenix. Under that approach, ADOT would have additional options for building the remaining improvements, including bundling both phases into a single job and adding a long-term maintenance program to better manage ongoing costs.
"We understand that these improvements are crucial not only to Nogales and Santa Cruz County but to the trade industry and the Arizona economy," Halikowski said. "We're aggressively looking into potential funding sources, which may include local, state, federal and private sources."
Upgrading SR 189 will be the latest of several efforts to improve transportation infrastructure and processes connected to the Mariposa Port of Entry. In 2014, ADOT completed $1.5 million in improvements to the SR 189 corridor that included synchronized signal timing and upgrading the interchange with I-19.
In 2012, ADOT received a Best Use of Innovation Award from America's Transportation Awards for a project that brought new technology to speed up the processing of trucks crossing the border, improving traffic flow and processing capability.