SR 77 project to reduce risk of falling rocks dislodges a whopper
Highway closed hours longer than planned to break up 18-foot-tall rock
November 30, 2016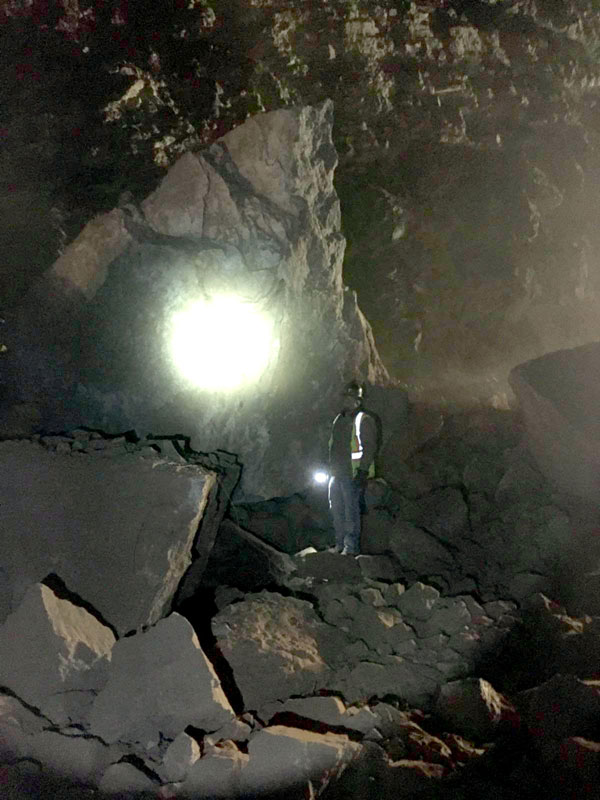 An Arizona Department of Transportation project is blasting rock from a limestone cliff to prevent it from falling onto State Route 77 between Winkelman and Globe.
Illustrating the need, one of the rocks dislodged early Wednesday was far larger than expected, an 18-foot-tall block that dropped onto the highway from 150 feet above and forced crews to keep the route closed four hours longer than scheduled.
Crews on the overnight project worked until nearly 6 a.m. to break up the rock and push it off the highway. As a result, a detour using State Route 177 and US 60 remained the only way around the work area as area residents began their morning commutes.
The project requires working nights under a full closure of SR 77 between mileposts 154 and 161, in the Dripping Springs area, using explosives to remove potentially hazardous rocks from a cliff that hangs over the highway.
ADOT strives to provide timely information on restrictions, closures and detours, but occasionally the unexpected happens and announced schedules aren't met.
Sometimes rocks break at naturally occurring joints beneath the surface that cannot be seen or anticipated, said J.J. Liu, manager of ADOT's Geotechnical Services division. When the charge is ignited, it opens the crack at that joint and the rock detaches itself, he said.
Having an unexpectedly large rock come down increases the time needed to remove it, particularly with some of the extremely dense types of rock common in Arizona.
"The mountain is composed of the Mescal Limestone Formation with large blocks of limestone up to 155 feet above the highway, periodically falling with great energy and destructive potential," said Brent Conner, a senior geotechnical engineer with ADOT.
The nature of the geology in the Dripping Springs area could mean more unanticipated delays before the project is complete, he added.
"The large block that fell required drilling and blasting at the roadway level to remove it from the travel lanes," Conner said. "Last night's work was one of the most difficult for the contractor on this project, but a couple more difficult sections remain."