SR 87 signals near Sacaton to enhance safety, improve traffic flow
Project is one of many partnerships with Gila River Indian Community
December 9, 2020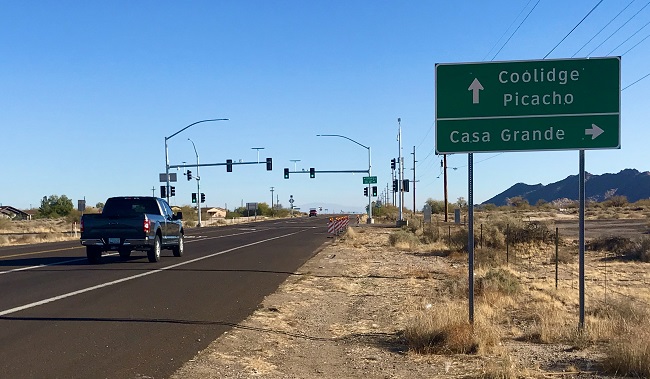 PHOENIX – The Arizona Department of Transportation is installing three new traffic signals on State Route 87 near Sacaton to enhance safety and to better manage traffic in an area where traffic volumes have nearly tripled in the past two decades.
Working with the Gila River Indian Community, ADOT is adding the signals at Sacaton Road, SR 187/Olberg Road and at Gilbert Road.
The signals will serve an area where traffic has nearly tripled in 20 years, increasing from about 3,000 vehicles a day in 1998 to approximately 8,500 vehicles today. Prior to installing the signals, there were 53 crashes at these intersections in a five-year period between 2012 and 2017. The $1.2 million project was funded through the federal highway Safety Improvement program.
The signals at Sacaton Road and SR 187/Olberg Road were activated Dec. 2 and 3, while the signal at Gilbert Road activated Tuesday, Dec. 8. During the signal activation process, motorists should expect brief stoppages of traffic and intermittent lane shifts. Short delays are also possible the days before and after the activation as crews install final equipment and adjust pavement markings and signs.
The signals are the latest of several improvement projects ADOT has partnered with the Gila River Indian Community to improve traffic flow, along with safety and pavement conditions in this corridor. In the last decade, new pavement, new rumble strips and turn lanes have been added along SR 87.
"ADOT's partnership with the Gila River Indian Community has been vital to improving roadways and keeping motorists safe," ADOT Director John Halikowski said. "When it comes to protecting motorists, boundaries and borders just don't matter. We're all neighbors and we all need to take care of each other."
Along with the work completed on SR 87, ADOT is currently collaborating with the Gila River Indian Community on the Interstate 10 bridge replacement project at the Gila River and the I-10, Loop 202 to SR 387 Wild Horse Pass corridor study.
"The fact that we are able to work together toward solutions and make our roads safer for everyone is so important. Cooperation and mutual respect have always been essential to our success — I'm proud of our strong partnership and I'm grateful that it continues to guide us forward," Halikowski said.