SR 88 roundabout opens in growing area of Apache Junction
Intersection accommodates large vehicles, enhances safety
August 21, 2018
PHOENIX – A modern roundabout designed to enhance safety and traffic flow has opened along State Route 88 (Apache Trail) in a growing area of Apache Junction.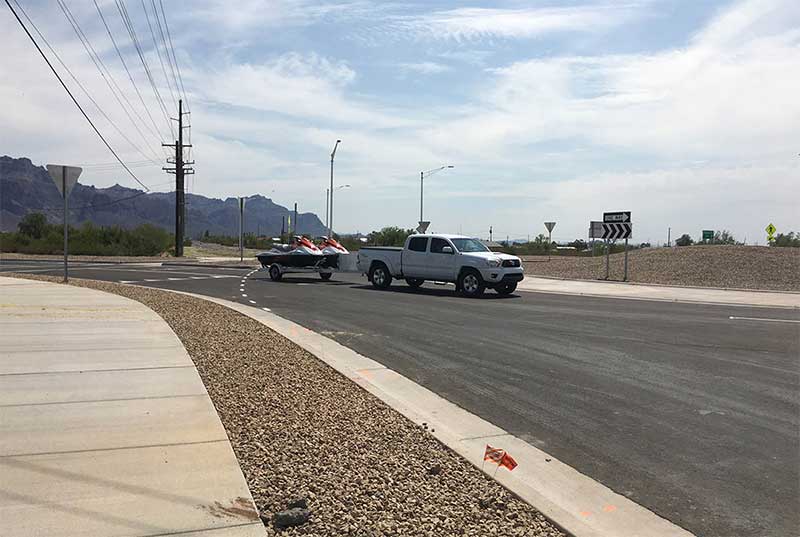 An alternative to a traditional intersection using a traffic signal, the modern roundabout completed at SR 88 and Superstition Boulevard is designed to accommodate large vehicles and vehicles with trailers. The center has an inner circle, known as a truck apron, with additional pavement at the edge to allow larger vehicles to easily maneuver within the roundabout.
The $3.3 million Arizona Department of Transportation project, which began in March, also included realigning SR 88 at the interchange, installing lighting, reconstructing turnouts and rerouting Goldfield Wash around the relocated roadway.
Modern roundabouts, which operate without traffic signals, provide a number of safety benefits. They feature just eight conflict points for traffic, versus 32 in a traditional intersection. According to the Insurance Institute for Highway Safety, modern roundabouts provide a 90 percent reduction in fatal crashes, a 75 percent reduction in injury crashes and reductions in crashes involving pedestrians and bicyclists.
By eliminating wait times at traffic signals, roundabouts enhance traffic flow and capacity while also reducing fuel consumption and pollution.
Real-time highway conditions are available on ADOT's Arizona Traveler Information site at az511.gov, by calling 511 and through ADOT's Twitter feed, @ArizonaDOT. When a freeway closure or other major traffic event occurs, our free app available at ADOTAlerts.com will send critical information directly to app users in affected areas – where possible, in advance of alternate routes.