State agencies working to reduce risk of blowing dust from farm along I-10
Goals: improving highway safety, limiting time and economic cost of closures
May 12, 2016
PHOENIX – With trucks spraying water, first responders standing by to close Interstate 10 when conditions warrant, and air quality and agriculture representatives advising the land owner, state agencies are working to reduce the risk from dust blowing off recently plowed farmland in southeastern Arizona.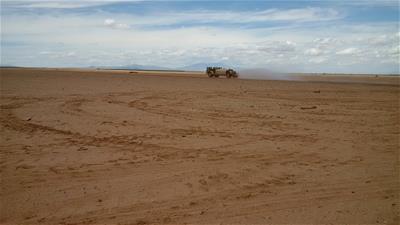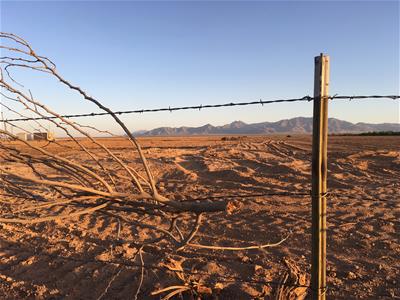 The Arizona Department of Transportation and Arizona Department of Public Safety have closed 60-plus miles of I-10 several times in recent weeks as dust has severely limited visibility at milepost 376 near the New Mexico state line. That has sent traffic on a 110-mile detour from US 191 east of Willcox and from US 70 near Lordsburg, New Mexico, through Safford.
Over the weekend, ADOT began using eight tanker trucks to haul water, transferring it to two larger tankers belonging to a local contractor that are used to spray water in hopes of creating a layer of wind-resistant crust. The trucks have given an initial watering to more than 320 acres of the 640 acres responsible for most of the dust restricting visibility on the interstate.
"We've mobilized these forces on a short-term basis to help ensure safety and maintain mobility," said Jesse Gutierrez, ADOT's deputy state engineer for statewide operations.
Representatives of the Arizona Department of Environmental Quality and Arizona Department of Agriculture are working with the land owner on best practices for reducing dust.
Meanwhile, ADOT employees and Arizona State Troopers are stationed along I-10 near the field and are ready to immediately close the interstate when conditions warrant. With strong winds in the forecast for the coming weekend, more closures are a possibility even after trucks have given the field an initial watering.
"We realize that closing I-10 for an extended period is a hardship for motorists, for drivers of commercial vehicles and for those along the lengthy detour route, but in this case the safest option is the only option," ADOT Director John Halikowski said. "ADOT and other state agencies are collaborating to improve highway safety and also limit the economic and time costs created by these dust closures."
The agencies are keeping track of their use of state resources to reduce dust, improve highway safety and limit disruption of the I-10 corridor and will work with the land owner to arrange reimbursement. The owner is cooperating with these efforts, but the Department of Environmental Quality can require action should that change.
"ADEQ continues to work diligently with the other state agencies and the cooperating farmer to find meaningful short- and long-term solutions to the dust issue," said Misael Cabrera, director of the Department of Environmental Quality. "ADEQ does have enforcement authority to address excessive dust issues but reserves those actions for cases when a property owner or company does not take the required steps to solve ongoing environmental violations."