State Route 377 closed for railroad crossing upgrade week of May 14
Drivers can detour through Snowflake to travel between Holbrook and SR 260
May 2, 2018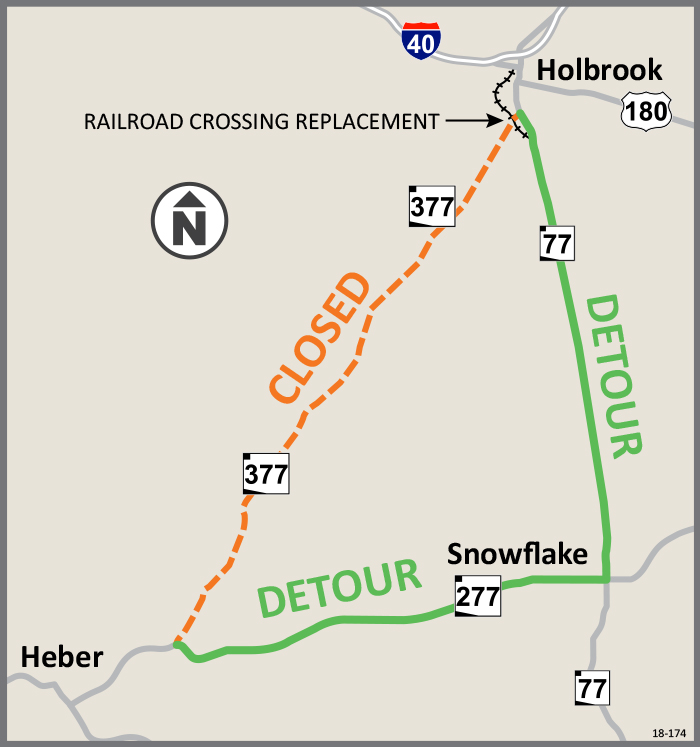 PHOENIX – State Route 377 will be closed between Holbrook and the junction with State Route 277, about 5 miles northeast of Heber-Overgaard, during the week of May 14 while the Apache Railway Co. replaces a railroad crossing, according to the Arizona Department of Transportation.
That 34-mile stretch will close at 4 a.m. Monday, May 14, and remain closed through mid-afternoon Friday, May 18, while the railroad upgrades the crossing in a project approved by the Arizona Corporation Commission. The work will occur at milepost 33.5 along SR 377 in Holbrook.
Those traveling between Holbrook and Heber-Overgaard can use SR 277 and SR 77 through Snowflake.
ADOT will be manning the closure around the clock at each end. Those with homes off of SR 377 will be allowed through the closure.
After the railroad crossing upgrade is complete, ADOT will tie in the existing roadway for a smooth transition.