State Route 77/Oracle Road widening north of Oro Valley advancing to next phase
Traffic switch to begin on August 7 as southbound SR 77 to carry two-way traffic between Wilds Road and Rancho Vistoso Boulevard
July 7, 2015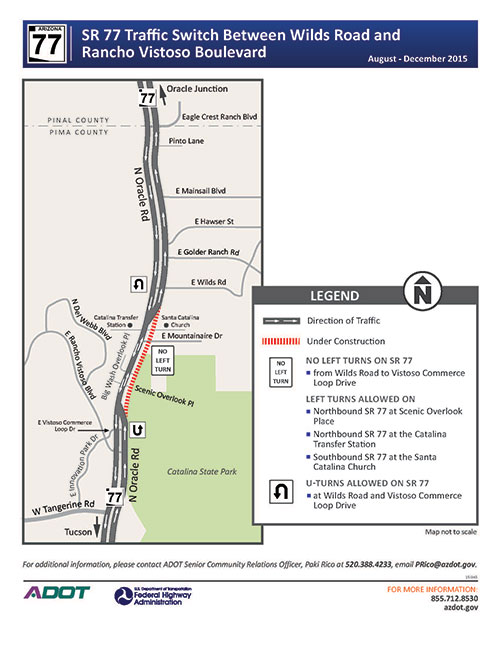 TUCSON – As the Arizona Department of Transportation continues to make considerable progress on the project to widen State Route 77 (Oracle Road) between Oro Valley and Catalina, motorists are advised to be aware of an upcoming traffic switch that will in place by Friday, August 7.
The $33.9 million improvement project, which started in June 2014 and is more than halfway completed, includes upgrading a six-mile section of SR 77 (Oracle Road) between Tangerine Road and the Pinal County line (mileposts 82-88) and expanding the highway from two lanes to three lanes in each direction.
Beginning at 5 a.m. on August 7, all SR 77 traffic between Wilds Road and Rancho Vistoso Boulevard will be re-routed to the newly completed southbound lanes through the end of the year so crews can begin work on adding capacity to the northbound lanes. Both directions of traffic have been traveling on the northbound lanes since early this year as crews worked on improvements to the southbound lanes.
Along with widening the roadway, planned improvements include raised medians, traffic signal and drainage improvements, wildlife crossings, sound walls and multiuse paths. The widening of Oracle Road will also tie into the recently widened section of the highway from Calle Concordia to Tangerine Road.
ADOT remains on schedule to complete the project by spring 2016.
Drivers are reminded to share the road, be cautious and slow down while traveling through the work zone.
ADOT works to inform the public about planned highway restrictions. Unscheduled restrictions or closures may occur. To stay up to date with the latest highway conditions around the state, visit the ADOT Traveler Information Center at az511.gov or call 5-1-1.