Strong winds, blowing dust could affect travel today
ADOT urges drivers to use caution on southern Arizona highways
April 21, 2021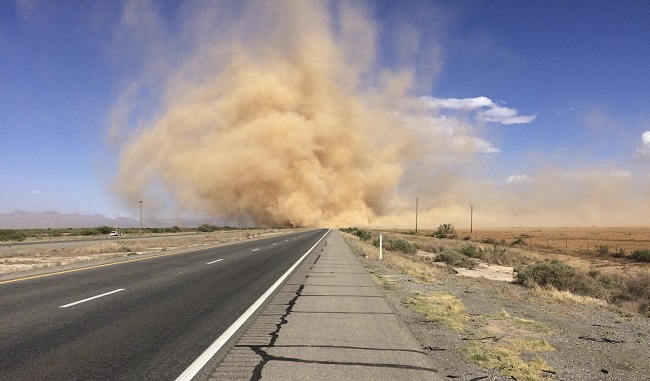 The Arizona Department of Transportation cautions drivers that strong winds and blowing dust could impact travel today in southern Arizona, including on Interstate 10 between Phoenix and Tucson.
The National Weather Service has issued wind advisory for large areas of the state, which are in effect from late morning until 8 p.m. Wednesday.
Travelers in Maricopa and Pinal Counties may encounter wind gusts between 25 to 35 mph, with localized gusts of 40 to 45 mph. These winds have the potential to kick up blowing dust and create difficult or hazardous driving conditions.
Drivers are advised to stay alert because strong winds can result in sudden periods of limited or zero visibility due to blowing dust, especially in desert areas. Motorists play an important role in safety when operating their vehicles during a dust storm.
ADOT and the Arizona Department of Public Safety recommend the following driving tips when encountering a low-visibility dust storm:
Avoid driving into or through a dust storm.
If you encounter a dust storm, check traffic immediately around your vehicle (front, back and to the side) and begin slowing down.
Do not wait until poor visibility makes it difficult to safely pull off the roadway — do it as soon as possible. Completely exit the highway if you can, away from where other vehicles may travel.
Do not stop in a travel lane or in the emergency lane; look for a safe place to pull completely off the paved portion of the roadway.
Turn off all vehicle lights, including your emergency flashers.
Set your emergency brake and take your foot off the brake.
Stay in the vehicle with your seat belts buckled and wait for the storm to pass.
Drivers of high-profile vehicles should be especially aware of changing weather conditions and travel at reduced speeds.
Be alert that any storm can cause power outages to overhead roadway lighting and traffic signals.
Drive with caution and treat all intersections without signals as having stop signs in all directions.
For more information on what to do if caught in a dust storm, go to Pull Aside Stay Alive.
Real-time highway conditions are available on ADOT's Arizona Traveler Information site at az511.gov, by calling 511 and through ADOT's Twitter feed, @ArizonaDOT. When a freeway closure or other major traffic event occurs, our free app available at ADOTAlerts.com will send critical information directly to app users in affected areas – where possible, in advance of alternate routes.