Success with competitive grants helps ADOT move Arizona forward
Since 2012, agency has won $43.6 million for projects around state
March 2, 2016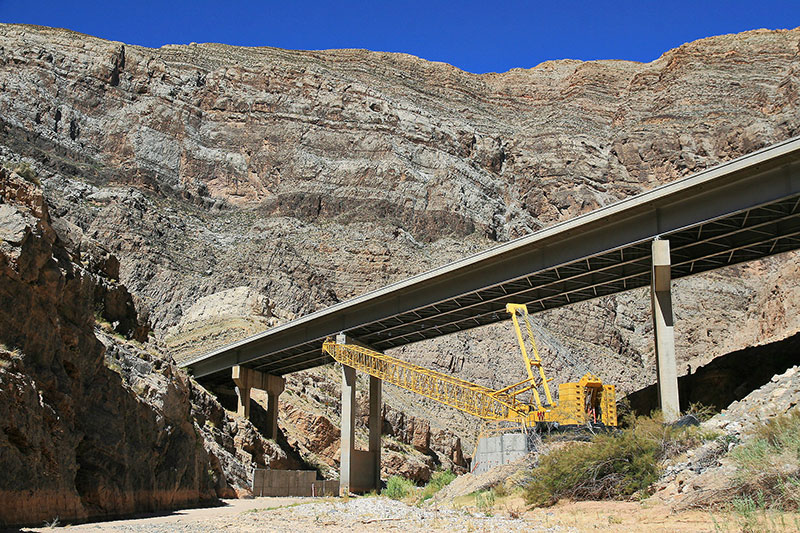 PHOENIX ‒ An upgrade to high-efficiency LED lighting in a US 60 tunnel east of the Phoenix area. A long-sought bridge to carry SR 347 over railroad tracks in Maricopa. Innovative monitoring technology transmitting real-time data on the structural health of four remote interstate bridges.
Facing limited transportation funding, the Arizona Department of Transportation has been able to move forward with these and other projects benefiting the state because of its success in seeking competitive grants.
Since 2012, ADOT has received a total of $43.6 million through 15 competitive grants, most of them administered by the U.S. Department of Transportation. Much of that amount comes from two grants awarded through USDOT's highly competitive Transportation Investment Generating Economic Recovery (TIGER) program:
In 2012, $21.6 million toward reconstruction of Virgin River Bridge No. 6 along Interstate 15 in far northwest Arizona, the largest amount awarded in this round of TIGER grants. ADOT's competition: 703 total applications worth $10.2 billion for about $500 million in available grant funding.
In 2015, $15 million toward construction of a railroad overpass on State Route 347, the only direct route between the city of Maricopa and metro Phoenix. With about $500 million available for this round of TIGER grants, USDOT received 627 eligible applications worth $10.1 billion.
"Advancing and protecting Arizona's transportation system in the current funding environment calls for innovative approaches," ADOT Director John Halikowski said. "Our track record of success on competitive grants has helped create value beyond funding available through traditional sources."
Winning Federal Highway Administration Accelerated Innovation Deployment (AID) Demonstration grants, intended to speed adoption of innovation, helped fund these ADOT projects:
$1 million toward adding energy-efficient, longer-lasting LED lighting to the Queen Creek Tunnel along US 60 between Globe and Superior.
$1 million toward construction of a Mohave County bridge along Old Route 66/Oatman Highway using prefabricated bridge elements that expedite the project and minimize the length of road closures. ADOT is administering design and construction for the county.
$768,000 toward adding structural health monitoring systems to four I-15 bridges, allowing ADOT engineers in Phoenix to get real-time data on their conditions, identify and address problems quickly and decide when the bridges will need major repairs or replacement.
Many of the grants require a state match. For the $43.6 million in grants received since 2012, Arizona provided $49.8 million in matching funds.
George Delgado, who became ADOT grants administrator in 2012, said keys to success include staying on top of what's available through grants.gov and the Federal Register and matching a competitive grant opportunity with a project that addresses a compelling need and presents clear economic benefits locally and statewide.
"Most important is a commitment throughout this agency to being nimble and decisive when it comes to grants," Delgado said. "The high level of collaboration we have throughout ADOT allows us connect the right projects with the right grant opportunities."