Twice-weekly closures begin Nov. 7 for US 60 Pinto Creek Bridge project
Four-hour daytime closures scheduled Tuesdays and Thursdays
November 5, 2019
PHOENIX – Motorists who travel on US 60 between Miami and Superior should plan ahead for about six weeks of twice-a-week daytime closures starting Thursday, Nov. 7, as rock blasting begins for the Pinto Creek Bridge replacement project.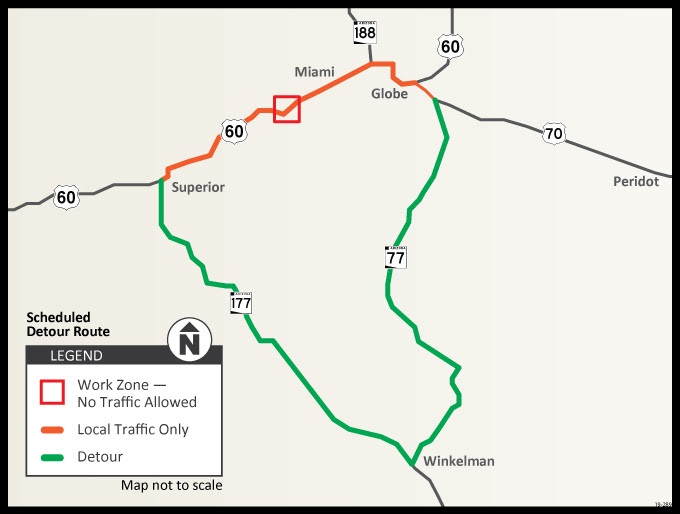 The blasting will lead to closures of US 60 on Tuesdays and Thursdays between 9 a.m. and 1 p.m., a schedule the Arizona Department of Transportation designed to provide consistency for those who rely on this highway east of the Phoenix area.
During closures, motorists will use a detour on state routes 77 and 177 through Winkelman. That roughly 68-mile route includes a 10 percent grade and will significantly increase travel time. Drivers may want to plan trips before or after the full closures because of the potential for long delays.
Eastbound US 60 traffic will be redirected at State Route 177 in Superior, and westbound traffic will be redirected at the west end of Miami. Traffic will not be allowed to queue at the closure locations.
Motorists with destinations between SR 177 and Top-of-the-Word west of Pinto Creek or between Miami and Pinto Valley Mine Road east of Pinto Creek will be allowed to pass. No vehicles will be allowed between Top-of-the-World and Pinto Valley Mine Road.
Daily lane restrictions continue at the Pinto Creek Bridge on Mondays through Thursdays from 6:30 a.m. to 4:30 p.m. Monday through Thursday and Fridays from 6:30 a.m. to 12:30 p.m. During those times, flaggers will direct traffic and drivers should plan extra travel time.
Drivers should proceed with caution, slow down and watch for construction personnel and equipment.
For more information, please visit azdot.gov/PintoCreekBridge.