Two road workers hit and killed this month on state highways
Driving alert, undistracted can save lives
June 14, 2016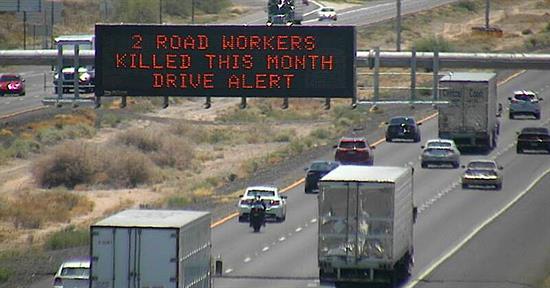 PHOENIX – In the past 10 days, two people working on state highways have been hit and killed by vehicles. These unnecessary and avoidable tragedies illustrate the need for drivers to pay attention in work zones and to give a safe margin of space to vehicles with flashing lights, such as tow trucks and emergency responders.
To remind drivers of the importance of paying attention to their surroundings, ADOT will display the following message this week on overhead signs statewide:
2 ROAD WORKERS
KILLED THIS MONTH
DRIVE ALERT
When traveling in work zones, drivers should expect the unexpected, as normal speed limits may be reduced and people may be working in the road. They also should slow down, keep a safe distance from the vehicle ahead and pay attention. Minimizing distractions could save a life.
Not only is it a safe practice to give space to emergency response vehicles, such as ambulances, fire trucks, tow trucks and highway maintenance vehicles, it's also the law. Arizona's "Move Over" law requires motorists to move over one lane – or slow down if it is not safe to change lanes – when driving by any vehicle with flashing lights pulled to the side of the roadway.
Early Monday morning, a passenger car struck and killed an employee of a contractor working on an ADOT project as he removed barricades from Loop 101 Pima Freeway in Scottsdale. Earlier this month, a box truck hit and killed a tow company driver responding to a stalled vehicle on Interstate 10 near Benson.