Westbound I-10 exit ramp at 59th Avenue to close permanently
Several ramps being reconstructed for South Mountain Freeway interchange
March 1, 2018
PHOENIX – The next phase of Interstate 10 ramp reconstruction for the Loop 202 South Mountain Freeway will begin this weekend in the West Valley as one ramp closes permanently while another reopens.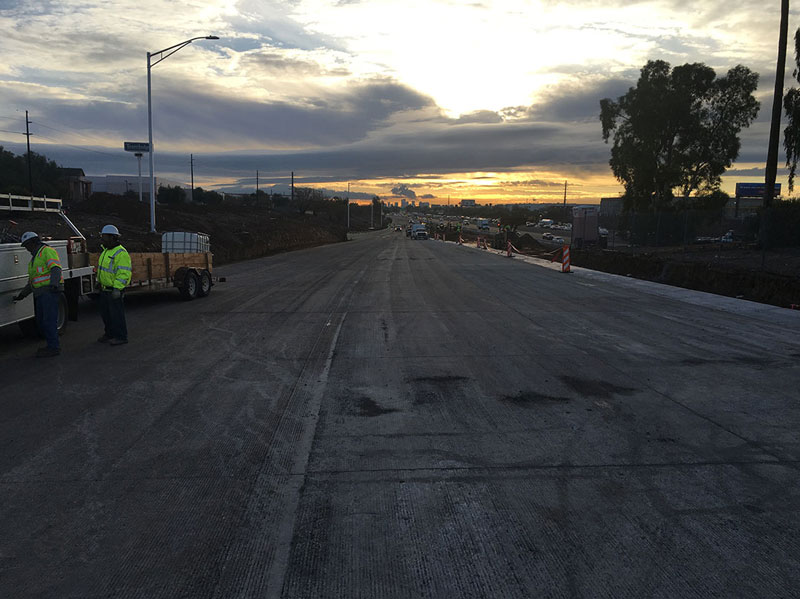 The westbound I-10 off-ramp at 59th Avenue will close permanently at 10 p.m. Friday, March 2, as crews continue work on the new I-10/Loop 202 freeway-to-freeway interchange that will replace the I-10/59th Avenue interchange.
As an alternative, westbound I-10 motorists should consider exiting the freeway at 67th Avenue until the 51st Avenue off-ramp reopens later this weekend.
As part of this work, westbound I-10 will be narrowed to three lanes overnight between 43rd and 59th avenues from 10 p.m. Friday, March 2, to 10 a.m. Saturday, March 3, to allow crews to remove barrier and replace signage.
Beginning at 10 a.m. Saturday, March 3, the westbound I-10 off-ramp at 51st Avenue will reopen following a five-week closure that allowed crews to widen, realign and repave the ramp.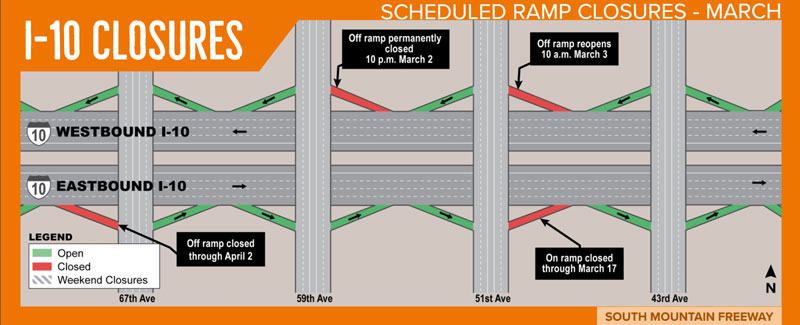 This is one of several I-10 ramps that must be reconstructed to tie into a wider I-10 that will include connecting ramps to and from the South Mountain Freeway when it opens late 2019.
The I-10 eastbound off-ramp at 67th Avenue (scheduled to reopen April 2) and I-10 eastbound on-ramp at 51st Avenue (scheduled to reopen March 17) remain closed.
Long-term and permanent closures of existing on-and-off ramps are necessary between 51st and 67th avenues until new access roads are completed by fall 2018. Motorists will be able to access 59th Avenue from these access roads.
Work schedules and restrictions are subject to change due to inclement weather or other factors. To stay up to date with the latest highway conditions around the state, visit the ADOT Traveler Information Center at az511.gov or call 511.