Westbound Interstate 10 east of Tucson to close overnight March 22
Bridge replacement project will require 67-mile detour
March 11, 2016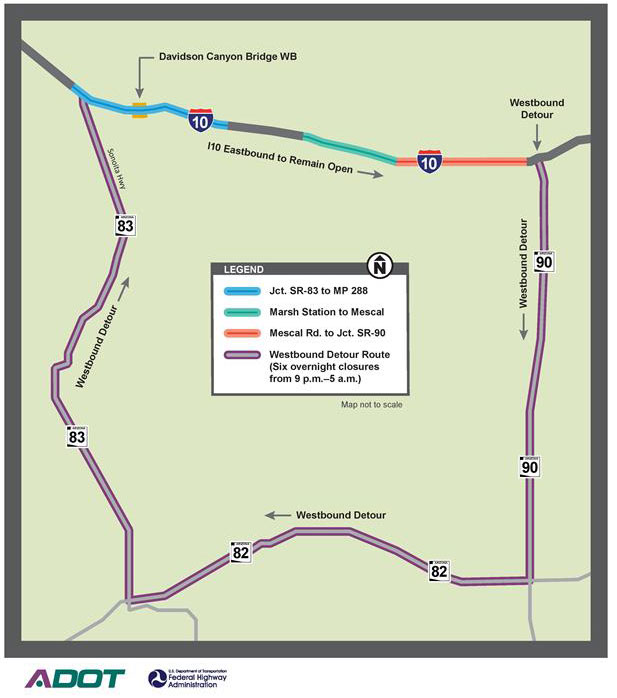 TUCSON – A bridge replacement project on westbound Interstate 10 between Tucson and Benson will require a 67-mile detour overnight from 9 p.m. Tuesday, March 22, to 5 a.m. Wednesday, March 23.
Westbound I-10 motorists, traveling toward Tucson, should expect up to two additional hours of travel time and consider avoiding the stretch if possible, according to the Arizona Department of Transportation.
Eastbound I-10 will remain open.
It's the first of two planned closures this spring to allow crews to replace the bridge at Davidson Canyon, between State Route 83 east of Tucson (Exit 281) and State Route 90 west of Benson (Exit 302).
The full westbound closures are needed to allow crews to safely set girders and pour new bridge decks. The concrete girders, which are 119 feet long and weigh 45,000 pounds each, are lifted off truck beds and put in place by a crane.
Detour signs will guide westbound I-10 motorists south on SR 90 (Exit 302), west on SR 82 to Sonoita and north on SR 83 to reconnect with I-10 at Exit 281.
The $15.1 million improvement project includes replacing the bridge at Davidson Canyon, which was built in 1961 near milepost 285, and repaving three segments of I-10, totaling 17 miles between Tucson and Benson.
ADOT will provide advance notice of the next closure, which will be overnight during April and will not affect weekend or holiday travel.
Paving work, which is on a winter shutdown, is expected to resume in early April.
Drivers should proceed through the work zone with caution, slow down and be alert for construction equipment and personnel.
ADOT works to inform the public about planned highway restrictions, but there is a possibility that unscheduled closures or restrictions may occur. Weather can also affect a project schedule. To stay up to date with the latest highway conditions around the state, visit the ADOT Traveler Information Center at az511.gov or call 511.