Wildcats, Sun Devils, Lumberjacks sport specialty plates
Fans, alums boost university scholarship funds
September 6, 2016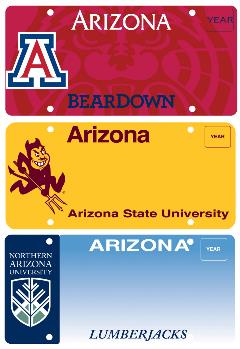 PHOENIX ‒ Universities are back in session, football season is underway and school spirit is in the air ‒ and on many vehicle bumpers.
More and more alumni and other fans are showcasing school colors with specialty plates offered by the Arizona Department of Transportation Motor Vehicle Division. In the process, they're raising hundreds of thousands of dollars annually for scholarships.
University specialty plates ‒ red and blue for the University of Arizona, maroon and gold for Arizona State University and blue and white for Northern Arizona University ‒ generated three-quarters of a million dollars for scholarships during the fiscal year that ended June 30. Drivers purchased or renewed about 44,000 of these plates during that time.
Vehicle owners pay $25 annually for specialty plates, with $17 of that amount going to sponsoring charities and nonprofits. Getting one is as easy as visiting ServiceArizona.com.
Melinda Burke, UA Alumni Association president, said the plates are a great way to show Wildcat pride.
"Coupled with that, the purchase of an "A" plate provides scholarship monies for UA students who are Arizona residents, so it is a feel-good way to support the university," Burke said.
The current UA plate, used since 2012, showcases the school's signature "A." Nearly 24,000 UA plates graced bumpers around the state last fiscal year, including the previous design featuring Wilbur the Wildcat.
ASU's current specialty plate is gold with maroon type and features Sparky the Sun Devil, though some vehicles may have a white plate with a similar design that was sold until 2010. The nearly 18,000 ASU specialty plates purchased or renewed last fiscal year funded Medallion Scholarships for top Arizona high school seniors, according to Tracy Scott, ASU Alumni Association marketing director.
"We've seen an increase (in sales) since the plate was redesigned in 2010," Scott said.
Since 2010, NAU's specialty plate has featured the school's snowflake-and-pine logo, but some with the older plate design featuring Louie the Lumberjack are still around. Alumni and fans purchased or renewed about 2,700 of the plates during the last fiscal year.
The dozens of specialty plates available through MVD generated $6.9 million last fiscal year for causes and charities supporting veterans, law enforcement, firefighters and more. That's a 9 percent increase from the year before.
Grand Canyon University alumni and fans may soon be able to show their support. The Arizona State Legislature earlier this year authorized creating a specialty plate featuring that school.