Work continues on Bell Road/Grand Avenue interchange
Project remains on track to reopen Bell Road by November
June 17, 2016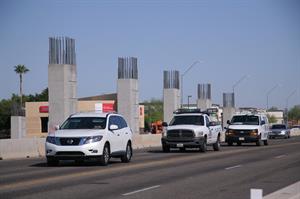 SURPRISE – Work is proceeding on the Arizona Department of Transportation's $41.9 million project to build a new interchange connecting Bell Road and Grand Avenue (US 60) and reopen Bell Road to traffic by November.
Crews are focusing on paving the widened westbound portion of Grand Avenue near Bell Road. The work to pave the roadway and add temporary lane markings along that section of US 60 is scheduled for completion by July. Grand Avenue traffic currently is shifted to the eastbound section of the roadway between Bell Grande and Towne Center drives.

ADOT continues its review of the June 9 fall of a girder during placement on bridge pier caps at the Bell Road overpass worksite. Worksite safety is the agency's priority as the contractor, consulting engineers and ADOT continue to review the incident. While a date for resuming the installation of girders as part of the Bell Road overpass construction hasn't been set, crews are continuing other work to keep the project on track, including:
Installation of new water lines along Bell Road, both west of Grand Avenue and east of 134th Drive, near Dysart Road.

Paving of the upgraded 134th Avenue connection to Bell Road. Crews plan to open the 134th Avenue connection by early July, providing drivers with a new way to reach several businesses north of Bell and west of Dysart Road.

Removal of the existing traffic signal at Bell Road and 134th Drive. Stop signs will continue to be used to regulate traffic until the 134th Avenue connection to Bell Road is opened.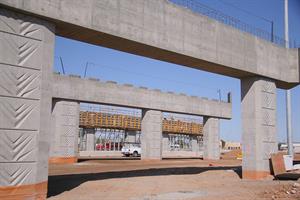 The entire Bell Road/Grand Avenue interchange improvement project is scheduled for completion by spring 2017.
To lessen the overall impact of construction on area businesses and drivers, ADOT worked with the city of Surprise to schedule the ongoing closure of Bell Road in an area between Dysart and Litchfield roads. Bell Road was closed to traffic April 1 and remains scheduled to reopen to traffic by November.