Work on US 60 passing lane near Superior to continue through summer
Blasting closures remain in place on Tuesdays, Thursdays
June 17, 2016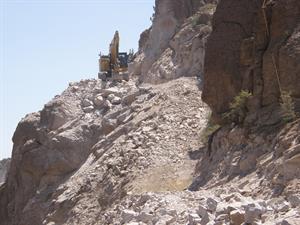 PHOENIX ‒ Steep, rugged terrain and high winds have added challenges for crews working to create room for an additional lane on US 60 between Globe and Superior. Because of that, the project will continue through the summer, including twice-weekly closures for blasting work.
Crews have about 25,000 cubic yards of rocks and dirt – about 2,000 truckloads – to remove to complete the project between mileposts 227 east of Superior to milepost 235 west of Miami. In addition to creating a passing lane, the Arizona Department of Transportation project is widening the shoulders in Devil's Canyon (mileposts 233-234), making improvements to the bridge at Waterfall Canyon (milepost 229) and improving drainage (milepost 242) west of Miami.
Drivers who rely on US 60 should continue to plan ahead for closures from 9 a.m. to 1 p.m. on Tuesdays and Thursdays. There will be no blasting-related closures in the area on June 30 or July 5 to accommodate holiday traffic.
After crews blast away rock in one area to make room for the climbing lane, they must maneuver heavy equipment up steep, narrow roads to prepare for the next blast. This spring, two periods of "red flag" conditions – high winds and low humidity that increase the danger of sparking a fire – have delayed work for about two weeks.
During the closures, drivers should consider taking state routes 77 and 177 between Superior and Globe, a route of about 68 miles. Motorists headed to the White Mountains region, including Show Low and Springerville, can take State Route 87 through Payson and travel east on State Route 260.
Meanwhile, US 60 will be restricted to one lane through the work zone from 9 p.m. Sunday, June 19, to 4 a.m. Monday, June 20, and also from 8 a.m. to 1 p.m. Monday, June 20. A pilot car will lead vehicles the work zone, and motorists should budget extra travel time.
Drivers should use caution, watch for construction equipment and personnel, and allow extra time.
ADOT works to inform the public about planned highway restrictions, but there is a possibility that unscheduled closures or restrictions may occur. Weather can also affect a project schedule. To stay up to date with the latest highway conditions around the state, visit the ADOT Traveler Information System at az511.gov or call 511.