2018 will be a big year for Pinal County improvement projects
2018 will be a big year for Pinal County improvement projects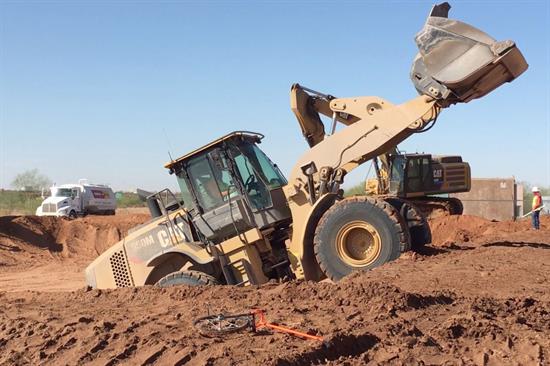 By Tom Herrmann / ADOT Communications
Get ready, Pinal County. A big year is beginning.
Four major projects – three of them along Interstate 10 between Picacho and Casa Grande – will begin in earnest in January. All four will keep our engineers and construction crews busy for the next two years, making transportation in Pinal County smoother and safer.
Construction crews have already begun moving dirt east of I-10 in Eloy to add a third lane in each direction between Eloy and Picacho. Our crews will create a new interchange with State Route 87 and create a new alignment to the east of the current travel lanes. The added lanes will reduce congestion and make the road safer.
At the same time, we're also building a dust detection system unlike anything that has been done in the U.S. Short- and long-range radar systems will help identify when blowing dust is creating a hazard for drivers, while electronic message boards and variable speed limits will get information to drivers that can help them make safe decisions.
The two projects, which are being done at the same time to coordinate the work, will cost about $58 million and are expected to be complete in fall 2019. Most of the work will be done away from the current travel lanes, meaning few restrictions and delays during the work.
In mid-January, the State Transportation Board will consider awarding the contract for widening a second section of I-10, between Earley Road and Interstate 8. The estimated $40 million project also includes replacing the bridge at Jimmie Kerr Boulevard and other improvements. Completion of that project is expected by late 2019.
And 20 miles up Maricopa-Casa Grande Highway, work is set to begin on a bridge that will carry State Route 347 over the Union Pacific Railroad tracks, eliminating frequent delays and increasing safety on the city's busiest roadway. The $55 million project also is scheduled for completion by late 2019. Like the other projects, most of the work will be done away from current travel lanes, reducing delays.
The animation at right shows what the bridge is going to look like.
Four projects, a $150 million investment in Pinal County transportation and a boost for one of Arizona's most-important key commerce corridors. We can't wait to get going.