40th Street improvements begin immediately for South Mountain Freeway
40th Street improvements begin immediately for South Mountain Freeway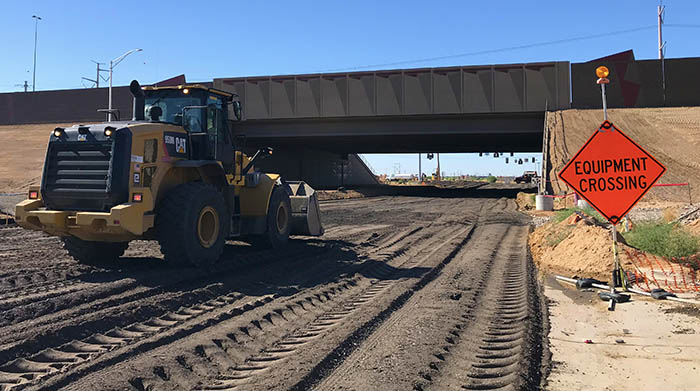 By Dustin Krugel / ADOT Communications
South Mountain Freeway crews are losing no time moving onto the final phase of construction for the 40th Street traffic interchange in Ahwatukee.
Less than 24 hours after closing 40th Street south of Cottonwood Lane, work has begun on milling and removing the asphalt pavement along 40th Street between Cottonwood Lane and Pecos Road.
The good news for motorists: When work is completed in September, the future 40th Street intersection will have increased capacity and will enhance traffic flow to and from the Loop 202.
The intersection is being widened to 92 feet with a 4-foot median and will include two southbound through lanes and two left-hand turn lanes, and two northbound through lanes and one right-hand turn lane. A traffic signal will also be installed at Cottonwood Lane.
The 40th Street closure occurred simultaneously with a Pecos Road traffic shift onto the future Loop 202 South Mountain Freeway's westbound lanes between 32nd Street and the Interstate 10/Loop 202 Santan Freeway interchange.
The 40th Street closure through the South Mountain Freeway work zone is scheduled to remain through September. Alternate north-south routes include I-10 and 24th and 32nd streets.
Despite the ongoing construction, the 40th Street/Pecos Park-and-Ride will remain accessible by using 40th Street from the north. In addition, Wild Horse Pass Hotel and Casino and the Phoenix Premium Outlets remain accessible via I-10 to Wild Horse Boulevard.
Over the next few months, crews will be paving the on-and-off ramps for the 40th Street interchange, making cross-street improvements, installing new traffic signals and completing additional grading and drainage work.