Abracadabra: Replacing a southern Arizona bridge while keeping it open to traffic
Abracadabra: Replacing a southern Arizona bridge while keeping it open to traffic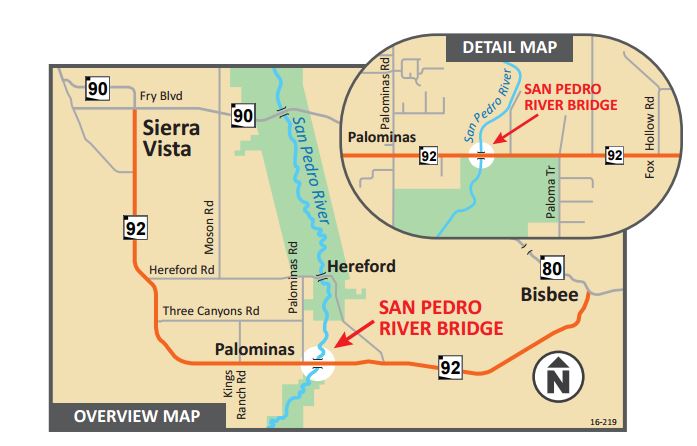 By Tom Herrmann / ADOT Communications
A magician on one of those TV talent competition shows recently reached into his bag of tricks and turned 200 Rubik's Cubes into an image of Brad Pitt. The judges were amazed.
What ADOT crews are doing with a bridge in southeast Arizona may not make Simon howl, but it's every bit as magical. They're replacing a 61-year-old bridge with a wider, better bridge – without ever stopping traffic from using the old one. And they'll do it right before your eyes.
We're replacing the old two-lane Santa Cruz River bridge on State Route 92 between Sierra Vista and Bisbee. The bridge, built in 1955, no longer meets modern bridge standards.
The bridge will only be closed one day at the start of the work so crews can prepare the bridge for one-way traffic. For the next eight months, traffic will move on one side of the bridge while ADOT crews do their magic below the other side.
Don't worry; we've done this before, on the SR 90 a few miles to the north. Girders stay in place to support traffic while we replace the piers and build a new, wider deck.
Why are we doing it this way? This approach will spare drivers a potentially long and difficult detour. There is a one-lane bridge a few miles away on Hereford Road, but the next-closest bridge is on SR 90, an inconvenient route for people who live near the border.
By next summer, the old bridge will be gone, a new one will be in its place and not once will SR 92 drivers have been without their bridge.
Abracadabra.