ADOT to auction vehicles, other equipment on Nov. 2 in Phoenix
ADOT to auction vehicles, other equipment on Nov. 2 in Phoenix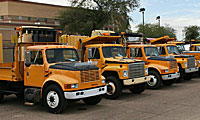 It's that time again…
ADOT is getting ready to host its fall auction on Saturday, Nov. 2 in Phoenix.
That means if you're in the market for a used pickup truck, attenuator or maybe even a snowplow, it might be worth a trip to the ADOT Equipment Services auction yard for a look at what's available.
If you're not familiar with these auctions, here's some of what you need to know…
They serve as a way for ADOT to dispose of its surplus vehicles and equipment, but before one is scheduled, surplus items are offered for sale at fair market value to other state agencies, local government agencies, school districts and eligible nonprofit institutions.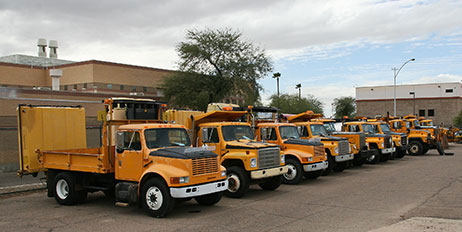 All items not sold to other agencies are then rolled over to the general public auction.
Everything that is for sale at the public auction is surplus property of ADOT, including light cars and trucks, heavy trucks, construction equipment and specialized equipment such as arrow boards, message boards, air compressors, water tanks, etc.
Items sold at ADOT's public auction do not include any warranty. All items are sold "as-is, where-is." All items should be inspected by a qualified technician prior to operation.
You can find everything else that you need to know, on the ADOT Equipment Services Auction Web page, including the auction list.
This weekend's auction
ADOT's fall auction will include 61 pickups, 14 sedans, three vans and a lot more surplus equipment.
Potential bidders are encouraged to inspect the equipment in advance during any of the three pre-auction inspection days: 8 a.m. to 2 p.m., Wednesday through Friday (Oct. 30-Nov. 1).
The actual auction is Saturday, Nov. 2 at the ADOT Equipment Services Auction Yard, 2350 S. 22nd Ave. in Phoenix. Gates open at 6 a.m. and bidding starts promptly at 8 a.m.
To avoid delays and lines, potential bidders can register for the auction ahead of time during the Wednesday – Friday pre-auction inspection days. All potential bidders must pre-register in person. Bidders will also be able to register the day of the auction when the gates open.
ADOT encourages those who plan on attending to dress appropriately for the outdoor event. Please wear proper footwear, use sunscreen, wear a hat and bring some drinking water.
For more on ADOT's past auctions, check out our previous blog posts.