ADOT engineers a faster way to deliver highway projects
ADOT engineers a faster way to deliver highway projects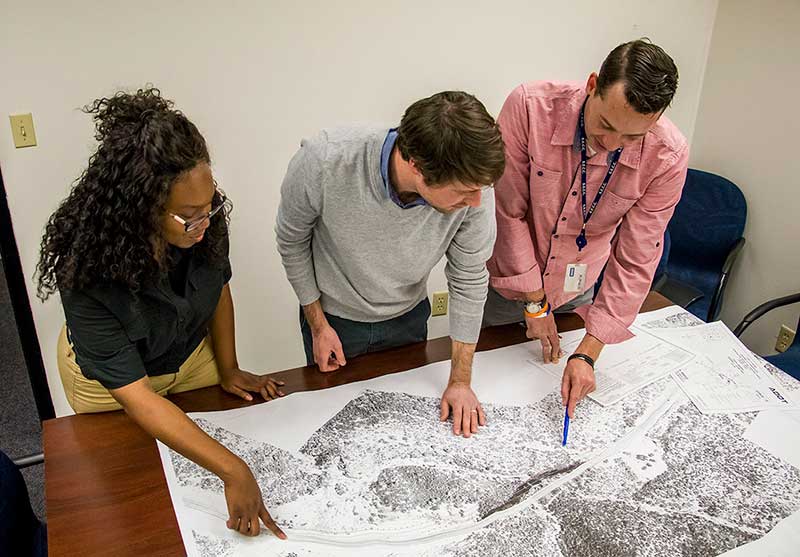 EDITOR'S NOTE: During National Engineers Week, which calls attention to the importance of engineering and career opportunities in engineering, blog posts are featuring different aspects of engineering at ADOT.
By Doug Nintzel / ADOT Communications
So here's a chance to take you a little bit deeper into ADOT's world. In fact, we're going to tell you about one of the "Deep Dive" efforts that ADOT engineers and other members of the agency's team have been involved in to improve delivery of highway projects.
Turns out that ADOT had run up against a challenge. Way too much time was being spent on finalizing task orders (you might call them contracts) for consultant engineering firms to start work on the important designs for highway improvement projects.
In many cases it was taking about 150 days for that task order process to be finished. That's way too long. Time is money, and it was frustrating for both ADOT and the engineering companies who do the necessary designs, or technical construction plans, for upcoming projects.
It was also keeping ADOT from its goal of evenly spreading out the project design and delivery process during the year. It's known as the 20-30-30-20 target, taking care of 20 percent of projects during the first quarter of the year, 30 percent during the second quarter and so on.
Which brings us back to that Deep Dive, launched by ADOT's Infrastructure Delivery and Operations Division. A committee of ADOT engineers and other employees, joined by consultant engineers, went to work with a goal of reducing the task order approval process to less than 50 days.
Although there were thoughts that the time problem would focus on ADOT's Engineering Consultants Section, which administers the procedures for managing the agency's professional services contracts, that wasn't the case.
One private engineer on the committee says it was indeed enlightening to learn that the consulting firms often slowed down the process.
The good news is that ADOT used the Arizona Management System championed by Governor Doug Ducey to assemble the committee, which ultimately improved the task order process.
Checklists were developed, forms were simplified and people moved beyond "that's the way we've always done it."
As a result of diving deep, this collaboration has indeed reduced the time needed to issue a project-design task order to an average of 50 or fewer days. Some of the participants detail this effort in the video above.
This improvement will play a key role in ADOT's mission to keep many accelerated projects on schedule. That includes the widening of I-10 between Verrado Way and State Route 85 in the West Valley and the widening of Loop 101 between I-17 and Princess Drive in the north Valley. Both projects are slated to start next year, along with many other highway system improvements.