ADOT enhances online camera images as part of operations center upgrade
ADOT enhances online camera images as part of operations center upgrade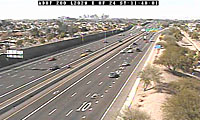 Did you know you can check your commute before you head out on the road?
All you have to do is visit az511.gov and take a look at the view from our freeway cameras…
That view can be useful, because knowing what to expect on the road ahead helps drivers make informed decisions concerning their route.
Wait, that sounds really familiar. Didn't we use that line a couple weeks ago when we blogged about freeway travel times? At any rate, it works here too, so we're leaving it!
Images now refresh more frequently
The recent high-tech makeover to ADOT's Traffic Operations Center definitely wasn't just superficial. The overhaul also brought in new equipment that converts the analog signal from the cameras into a digital one that can be maintained at the TOC in a digital format.
While that may not sound like much, the new complex processor that does the converting gives TOC employees more tools and better options for monitoring and traffic control. The change also permits the images on az511.gov to be updated more frequently.
Until just recently, images would refresh after about five minutes ... now they're updated every 10 seconds, giving visitors to the site a better idea of how traffic is moving along (go ahead and check it out!).
What the cameras are used for
Traffic cameras are used to quickly identify incidents so traffic can be redirected, provide first responders with fast, accurate information, and allow commuters to make more informed decisions on their routes. The cameras are not used for enforcement of traffic laws, and the images are not recorded by ADOT.
More cameras
Not all sections of freeway have cameras, but according to ADOT Server Team Manager Darrell Bingham, additional cameras are added as new freeway projects are built. He explained that new cameras will soon be up and running on the Loop 202 (Red Mountain Freeway) between Loop 101 and Gilbert Road.
"Now, the system will help give users a much better, accurate story," Bingham said of all the improvements.