ADOT helps Light AZ Purple for Domestic Violence Awareness Month
ADOT helps Light AZ Purple for Domestic Violence Awareness Month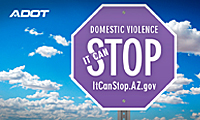 By David Woodfill / ADOT Communications
ADOT is helping to raise awareness about domestic violence by bathing our building closest to the State Capitol in purple light – the signature color of Domestic Violence Awareness Month.
This is the fourth year we've helped Governor Doug Ducey support victims of domestic and intimate partner violence by "Lighting AZ Purple." On Oct. 2, state officials lit the Capitol Dome purple. It will remain that way every night during October.
According to the Arizona Department of Health Services, one in every four women experiences domestic violence, and every 44 minutes at least one child witnesses it.
All ADOT employees have been encouraged to wear purple on Thursday, Oct. 18. Our operations around the state will take and share group photos to show their support for victims of domestic violence.
For more information, please visit ItCanStop.AZ.gov. You also can show your support by posting to social media with the hashtag #LightingAZPurple.