ADOT hosts its version of a garage sale this Saturday
ADOT hosts its version of a garage sale this Saturday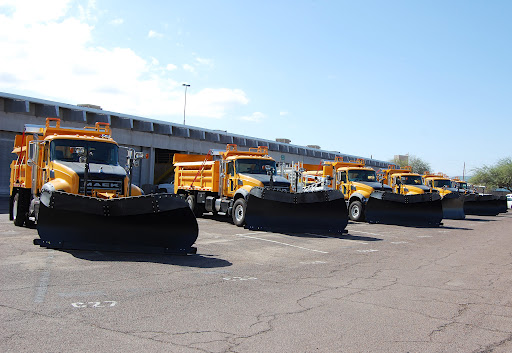 If you're in the market for a snowplow, Saturday might just end up being your lucky day...
That's when Equipment Services will hold a public auction (basically ADOT's version of a garage sale) and there's a long list of items up for purchase, including that snowplow.
Also on the block: assorted sedans, a few dozen trucks, some shop manuals, warning lights, a diode tester, an attenuator truck, message boards, front end loaders, dozers and even a highway debris pickup machine! 
These auctions serve as a way for ADOT to dispose of its surplus vehicles and equipment, but before one is scheduled, surplus items are offered for sale at fair market value to other state agencies, local government agencies, school districts and eligible nonprofit institutions.
All items not sold to other agencies are then rolled over to the general public auction.
How does the auction work?
Items are available for inspection between 8 a.m. and 2 p.m. on Thursday (3/29) and Friday (3/30) at ADOT's Equipment Services yard, 2350 S.22nd Ave. in Phoenix.
Bidders can head to that same location for the auction on Saturday, March 31 – registration starts at 8 a.m. and the auction kicks off at 10 a.m. So beat the crowds ... come early to register and look around!
There is no cost to register, simply come in and fill out a bidder registration card. As the auction progresses, you'll flash your bidder card at the auctioneer to indicate your bid on a particular item.
A few things to keep in mind …
Accepted payment forms include cash, money order, certified check or cashier's check. Money orders and checks should be made payable to ADOT. Personal checks and company checks will NOT be accepted.
A 7.3 percent sales tax will be added to the selling price of each item. Exception allowed only upon presentation of a state privilege (sales) license or state use license. Bidders claiming tax exempt status will need to bring the original tax exemption license with them at time of bidder registration.
Vehicles sold at ADOT's public auction are not licensed. However, one-trip permits can be purchased at a cost of $1 each. The one-trip permit will allow a person to operate an unregistered vehicle from a specified origin to a specified destination. The one-trip permit will be valid for a period of not greater than three days, excluding weekends and holidays.
All items are sold "As Is – Where Is." Deficiencies, when known, will be indicated. However, absence of any indication does not mean the item may not have deficiencies. All items should be inspected by a qualified technician prior to operation. Neither the state of Arizona, nor any of its departments or institutions, nor the auctioneer, make any guarantee or warranty of any kind, expressed or implied, as to the condition of the articles offered for sale.
Pursuant to state law, any motor vehicle, painted yellow, owned or operated by the state, shall, if sold or transferred to a private owner, be repainted a different color by such private owner before it may be driven on the public highways of the state.
Visit ADOT's Equipment Services website for more auction information.
Important Notice: Arizona Administrative Code is R2-15-303, Section E-5.
An employee of the owning or disposing agency shall not directly or indirectly purchase or agree with another person to purchase State surplus property if said employee is or has been, directly or indirectly involved in the purchase, maintenance, preparation for sale, or disposal of the surplus material.