ADOT hosts pre-apprenticeship program for construction industry
ADOT hosts pre-apprenticeship program for construction industry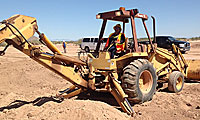 Are you (or someone you know) looking to get a start in the construction industry?
Maybe you should consider applying for ADOT's Construction Academy, a three-week program designed to expose people to various trades within the construction field.
Hosted by ADOT's Business Engagement and Compliance Office/On-the-Job-Training Supportive Services, the program is open to disadvantaged individuals, veterans, minorities and women interested in a career with the construction industry.
The program includes various introductory courses in the transportation construction industry that are taught by industry experts. Some of these courses include heavy equipment, highway electrical, materials, traffic technology and highway survey.
How to apply
Those interested in applying for the Construction Academy can do so online at the ADOT website or by picking up an application at the Business Engagement and Compliance Office, 1135 N. 22nd Ave. in Phoenix.
The first three-week course just wrapped up. Those graduates had the opportunity to talk to construction industry companies at an onsite career/job fair to gain possible apprenticeships.
Upcoming three-week courses will be held early next year in late January and in April.