ADOT, law enforcement agencies band together during propane leak
ADOT, law enforcement agencies band together during propane leak

By Tom Herrmann / ADOT Communications
For most of us, the only time we worry about propane is when we're lighting the backyard grill. And there isn't much to worry about, provided you follow some simple safety rules.
It's a different story when trucks are involved. A propane leak on a truck, such as one crossing the border, constitutes an emergency.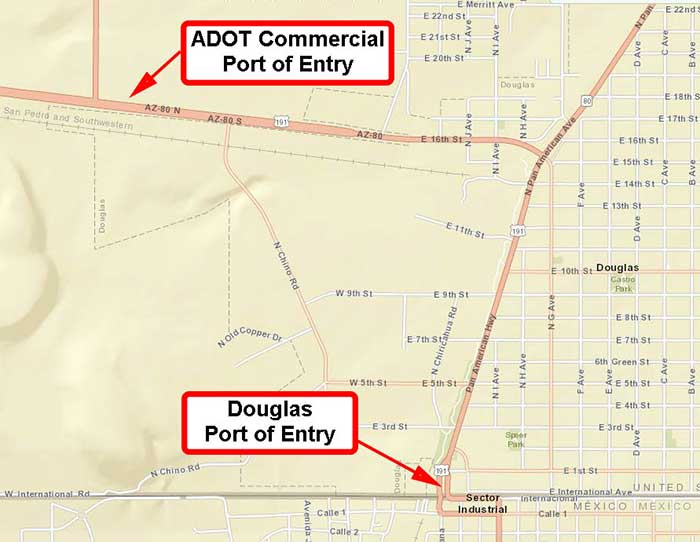 The law enforcement agencies that police Arizona's international border crossings – U.S. Customs and Border Protection, ADOT's Enforcement and Compliance Division, Arizona Department of Public Safety and local officers – have very different roles. But teamwork helped everyone respond to an emergency when a valve began leaking on a propane tank attached to a large commercial vehicle crossing the border at Douglas recently.
Sgt. JJ Moreno and Sgt. Bill Mercer of the Enforcement and Compliance Division drove from ADOT's commercial port of entry to the border, 2 miles away, to help assess the situation. Enforcement and Compliance Division officers Scott Long and Leandro Cruz, along with ADOT maintenance crews, assisted with keeping traffic away from the area.
Because officers had little room to maneuver at the border, ADOT offered its inspection station as a staging area for the agencies involved and a landing site for a Border Patrol helicopter. You can see all the vehicles in the photo at top.
Sergeant Moreno said the propane tank was only about 10 percent full, and wind helped disperse the gas and reduce the danger. Local firefighters secured the tank.
"We worked as a team," Moreno said. "Everybody came together to work as a unified command."
Because the agencies operate on different radio frequencies, they collaborated via cellphone – a challenge that Sergeant Mercer said the parties are addressing.
"We're working with the other agencies to make sure that doesn't happen in the future," Mercer said. "We already have a good working relationship, but we can improve our communication tools."