ADOT makes switch to online surplus equipment auctions
ADOT makes switch to online surplus equipment auctions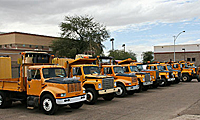 It used to be if you were in the market for a used ADOT snowplow, you'd have to wait until the department held one of its semi-annual auctions to see if you could snag one. But now there's a new, more convenient option.
Starting July 1, ADOT made the switch to online auctions.
That means ADOT's used vehicles, older construction equipment and other surplus items will be put up for bid more frequently as they become available throughout the year (until now, ADOT has held a public auction one or two times a year at an agency equipment yard in Phoenix).
If you want to bid, you'll need to register online (for free) at publicsurplus.com. Once you're there, just select Arizona as the region and Arizona Department of Transportation as the participating agency. Discover, MasterCard and VISA credit cards will also now be accepted as payment options. Online auctions will typically run for 14 days.
Full descriptions of each item, along with photos and disclosures of any known issues, will be provided on the auction website.
Potential bidders also will be able to schedule an appointment to inspect items during each auction period by contacting ADOT Fleet Management. Information on how to schedule an appointment is listed on the auction website.
Winning bidders of items will receive an email notification and then have five days to pay for the items and pick them up at the ADOT Equipment Services Yard, 2225 S. 22nd Ave., Phoenix.
Bidders should be aware that any ADOT vehicles and equipment will be auctioned and sold on an "as-is" basis.
If you want to take a look at how ADOT has conducted auctions in the past and get a glimpse of some of the items we've sold before, check out our previous blog posts (including this one that shows an auction back in 1969).