ADOT ready for winter season
ADOT ready for winter season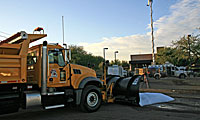 Did you happen to tune in to any of the local television news stations this morning?
If you did, you may have caught a glimpse of the snowplows that were on display for ADOT's annual winter readiness event in Phoenix.
Yes, that's right. We had snowplows in Phoenix … but it was for a good reason.
Every year, ADOT invites members of the media (and their audiences) to take an up-close look at all the equipment that's involved in keeping the roads clear once the winter weather hits.
This includes the snowplows and snowplow simulators (more on those in a minute). The media also had the chance to visit the Traffic Operations Center control room to see where and how ADOT operators monitor the freeways during a storm.
ADOT hosts these winter readiness events each year so drivers can see that ADOT is prepped and ready for the season ahead. We also use the event as an opportunity to share some important winter-driving tips.
Know Snow
If you read yesterday's blog post, you know that we're focused this week on getting drivers the information they'll need to be safe on the road this winter.
The best place to find all those details is over on our "Know Snow" Web page. There, you'll find information on how to prepare your vehicle, tips for driving on wet or icy roadways and a list of "must haves" for every vehicle.
We also want to make sure drivers know how to share the road with a snowplow...
Of course, your best bet is to stay indoors until the weather and roads are clear. But if you happen to be driving during a snowstorm you'll want to remember this advice:
Never pass a snowplow! Slow down and be patient.
Stay at least four car lengths behind snowplows and equipment. Plowed snow can create a cloud that reduces visibility, and spreaders on trucks throw salt and sand that can damage your vehicle.
Watch for snowplows operating in multiple travel lanes or in tandem.
If approaching an oncoming snowplow, slow down and give the plow extra room.
About those snowplow simulators
The snowplow simulators (see photos above) are valuable training tools for ADOT snowplow operators. They may look big video games, but they're definitely not. The simulators can help someone learn to operate a snowplow by presenting the operator with some of the real-world hazards they may face out on the road. They can output everything from different weather conditions to locked brakes and failed headlights.
Three of our snowplow simulators have received upgrades since last year, including new software, 50-inch monitors, better graphics and new computers. These upgrades will enhance the training experience for our snowplow operators and better equip them for the job ahead.
You can read more about the simulators, along with snowplows and other equipment, by checking out some of our blog posts from previous winters. And, be sure to stay tuned to the blog this week … we've got a new video coming your way tomorrow!