ADOT recognizes Class of 2020 Graduates
ADOT recognizes Class of 2020 Graduates
By Doug Pacey / ADOT Communications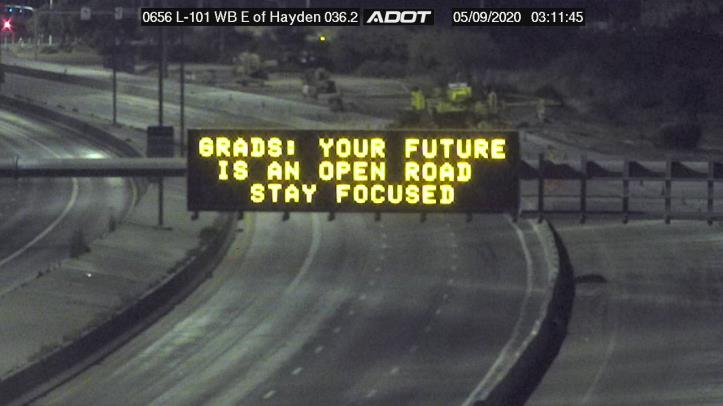 Graduation ceremonies have taken on new looks and venues this year. But the feelings of accomplishment, joy and maybe even sadness – we see you, parents – are as present as ever.
For that reason, the Arizona Department of Transportation is joining education organizations, school districts, businesses, teachers, families and others to celebrate Arizona Graduate Recognition Day on May 20 and displaying a message on ADOT's Dynamic Message Signs.
Of course, being a transportation agency, our message has a traffic-safety twist. It reads:
GRADS: YOUR FUTURE
IS AN OPEN ROAD
STAY FOCUSED
Graduates, don't get distracted and keep sight of what's ahead – in the figurative sense and, in the literal sense, while driving. And from all of us at ADOT, a big "Congratulations!" to the Class of 2020.