ADOT is set to mark AZ centennial with 'day in the life' video project
ADOT is set to mark AZ centennial with 'day in the life' video project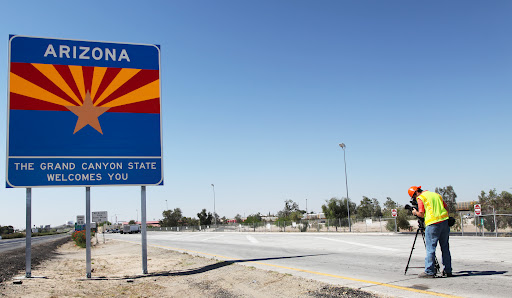 We're just one day away from a very significant date in our state's history … tomorrow is when Arizona officially celebrates 100 years of statehood!
We don't know about you, but such an important milestone really starts to make us think about what life must have been like for Arizonans way back in 1912.
How'd they earn a living? Where did they go for fun? What were the roads like? (Come on, we do work for a transportation agency after all!)
History buffs can rest assured – this blog is going to delve into the past a little later this week by examining the early days of transportation in Arizona. But for tomorrow, Arizona's 100th birthday, we're not looking back …
We've got something else planned – something that will give Arizonans of 2112 a vivid glimpse of this state in 2012.
We're documenting a day in the life of ADOT!
With video and still cameras in hand, our team members will be at projects, office buildings, planning meetings, labs and maintenance yards – basically anywhere ADOT business is taking place. We'll snap photos and capture video in an attempt to showcase everything that happens in one day at ADOT.
The majority of what we catch will be used to create a comprehensive video that you can be sure we'll post here on the blog as soon as it's finished. We'll also keep you updated tomorrow through all our social media channels (more on that at the end of this post).
Before we rest up for the big day ahead, we want to highlight another special project slated for tomorrow … it's one that actually inspired our centennial plans.
Arizona Highways is looking to create a photographic record of the state's 100th birthday with the Arizona Centennial Photo Project. Open to all amateur and professional photographers, the project will assemble a wide range of photos from all over the state to give an extensive account of Feb. 14, 2012!
It's a special day and so much is planned around the state.
We hope you'll check back with us early and often tomorrow because throughout the day we'll be posting photos from out in the field. You can visit us here on the blog, over on our Twitter feed and on our Facebook page to keep up and see how we're doing in our pursuit!