ADOT to test innovative construction technology to extend life of roadways
ADOT to test innovative construction technology to extend life of roadways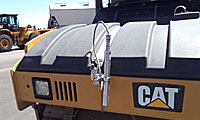 By Dustin Krugel
ADOT Office of Public Information
The Arizona Department of Transportation has pioneered the use of rubberized asphalt as an innovative method of using recycled tires to increase pavement durability and create smoother highways for motorists. Now ADOT will test a new method in roadway construction, called "intelligent compaction," to improve efficiency and provide longer-lasting pavement that could potentially extend the life of roadways – saving the state time and money.
Compaction is one of the most important processes in roadway construction to achieve quality and uniformity of pavement materials, which in turn ensures long-term support, stability and strength. Conventional compaction equipment and processes can result in inconsistent pavement density, which can shorten the pavement life, leading to additional maintenance costs and subsequent repair projects that can be inconvenient to motorists.
On the other hand, intelligent compaction takes a modern approach through the use of special vibrating rollers – a piece of heavy equipment commonly used to pave roadways – equipped with an integrated measurement system, a map-based GPS, and an onboard display and computer reporting system. The intelligent compaction rollers allow crews to collect real-time information and create a more accurate picture of the project. If there are any compaction issues with the new pavement, they can be addressed immediately during construction.
This winter, ADOT crews will test this technology while making spot repairs along Interstate 40 east of Flagstaff. The data collected from the intelligent compaction components installed on a retrofitted roller will be used on a future pavement improvement project beginning next spring along a 14-mile stretch of Interstate 40 from Walnut Canyon to Twin Arrows (mileposts 204-218).
Potential benefits of using intelligent compaction, which ADOT will be investigating, include better quality control, increased productivity, reduced highway repair costs, fewer roller passes, fuel savings and improved long-term durability of the roadway.
"Intelligent compaction is just one way ADOT is incorporating the latest technologies to protect Arizona's $19 billion transportation system," said ADOT Director John Halikowski. "Continued use and improvement of intelligent compaction technology will help keep drivers safe, improve the efficiency of the highway system and allow ADOT to be a high-performing organization at a time when funding for transportation is limited."
Intelligent compaction is relatively new to the United States after it originated and proved successful in Europe and Asia. Recently, 12 U.S. states (not including Arizona) participated in a study on intelligent compaction in an effort to better understand this new process. The new equipment is now readily available for use across the country.
The federal transportation bill, Moving Ahead for Progress in the 21st Century (MAP-21), encourages the widespread use of innovative technologies and practices, including intelligent compaction. This allows state departments of transportation to increase the amount of federal dollars that can be used for the project, saving state funds for other projects.
In other words, ADOT will be able to use those state funds on other critical projects. For instance, on a $15 million project, such as the I-40 Walnut Canyon to Twin Arrows project, ADOT could save up to $750,000 to apply to other projects.
This increase in federal funding is intended to offset a state's costs for implementing the intelligent compaction technology. It costs construction contractors an additional $25,000 to $50,000 to add the new technology to each roller.
ADOT is responsible for maintaining a transportation system of approximately 7,000 miles of state highways.