ADOT Twitter turns 10 with 224K followers
ADOT Twitter turns 10 with 224K followers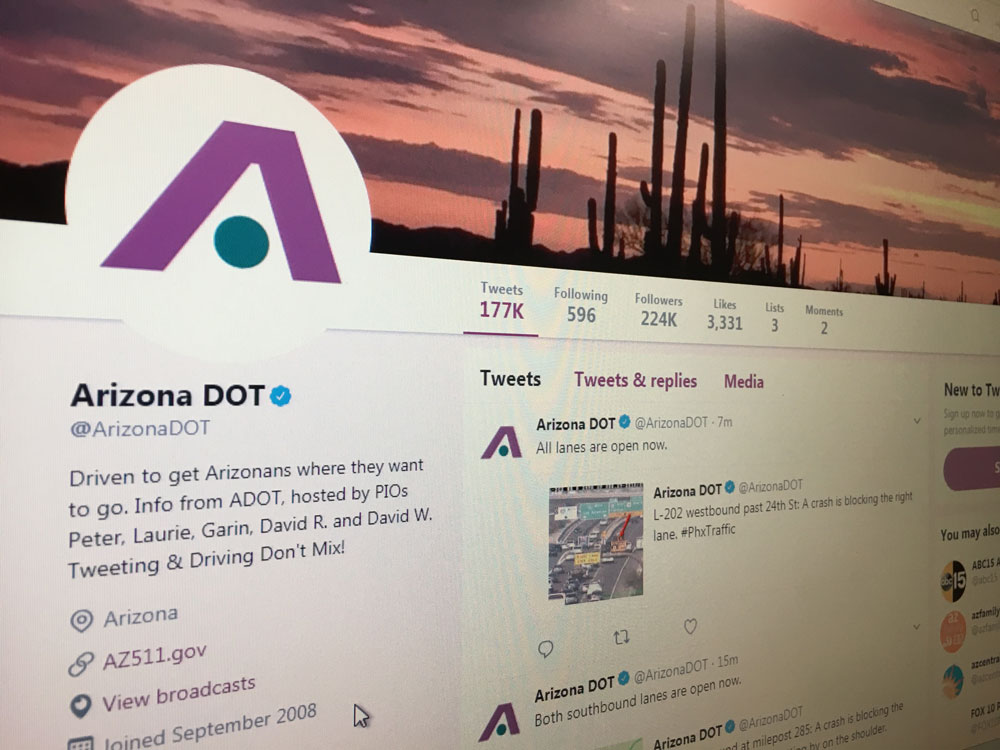 By Peter Corbett / ADOT Communications
@ArizonaDOT is celebrating its Twitterversary this month with 10 candles, 224,000 followers and a toot of our own snowplow horn.
Aw, shucks! #ThankYou, fellow Arizona tweeters.
A decade ago, a little bird told us we should start tweeting to and with the motoring public. Tim Tait, now ADOT's communications director, was listening and waded into the growing social media maelstrom. Here's the modest first tweet from ADOT's Twitter account, sent at 1:14 p.m. Tuesday, Sept. 16, 2008.
One-Year Federal Funding Fix Rescues Arizona Projects. Details: www.azdot.gov

— Arizona DOT (@ArizonaDOT) September 16, 2008
Twitter turned out to be an ideal forum for two-way communications between ADOT and travelers. The immediacy of the medium is ideal for responding to road conditions that turn on a dime. It also allows us to share news about ADOT and images of things happening on and near highways, including the recent 9/11 remembrance in Tempe.
ICYMI: The Healing Field at Tempe Beach Park remembering those killed in the Sept. 11, 2001 attacks.
By 2012, ADOT had public information officers covering Twitter, among other communication channels, 20 out of 24 hours per day, 365 days a year. We recently expanded coverage to 24/7.
We also share information on Facebook, Instagram, LinkedIn and ADOT Alerts, a free travel app we launched last November.
Our tweets on road conditions, crashes and detours have saved motorists statewide from countless delays. We also warn drivers of safety hazards from dust storms to debris on the highway, and we answer their questions.
I-17 SB near Jomax: A semi rollover off the highway has spilled a load of kegs. HOV lane also blocked. #phxtraffic pic.twitter.com/BN5JTJ4mea

— Arizona DOT (@ArizonaDOT) September 10, 2018
We sometimes use Twitter to call attention to the weird and wonderful, such as this image that turned out to be a rocket launch from Vandenberg Air Force Base in California.
We'll rely on the news to tell us what this is in the western sky. Whatever it is, it's mysterious and very pretty. pic.twitter.com/tEPCEOXouX

— Arizona DOT (@ArizonaDOT) December 23, 2017
In turn, motorists have shared their on-scene observations with fellow travelers and often their frustrations with road closures or other drivers.
Occasionally we just have a little fun, such as the other day, when we showed someone playing saxophone along Loop 101 in Scottsdale – all while slipping in a relevant safety message.
So ... this just happened on L-101 Pima and Indian School.

While everyone at ADOT loves an impromptu Baker Street performance, we remind our fellow art lovers that freeway shoulders are not the safest place to shred on the sax. pic.twitter.com/NwbHoj7S6v

— Arizona DOT (@ArizonaDOT) September 12, 2018
Then there was the time we set off sasquatch fever around Arizona with a tongue-in-cheek tweet sent on snowy day. 
It's blurry, but I think we found a family of Bigfoots on SR 260 near Heber. pic.twitter.com/JWfs14oqGi

— Arizona DOT (@ArizonaDOT) January 1, 2015
The recent success of @ArizonaDOT is reflected in the numbers: It took eight years to get to 100,000 Twitter followers and just over 18 months to top 200,000, as of October 2017. Now it's up to 224,000.
We've sent more than 177,000 tweets with 37,000 or so photos, maps and graphics. We like to share. Thanks for sharing with us.
Since numbers are a such big part of our Twitter story, we'll end with some more:
20,000 tweets as of January 2013
100,000 followers in March 2016
177,000 tweets sent to date
224,000 followers at last count
Thanks again, Twittersphere.