ADOT's Disadvantaged Business Enterprise program wins recognition
ADOT's Disadvantaged Business Enterprise program wins recognition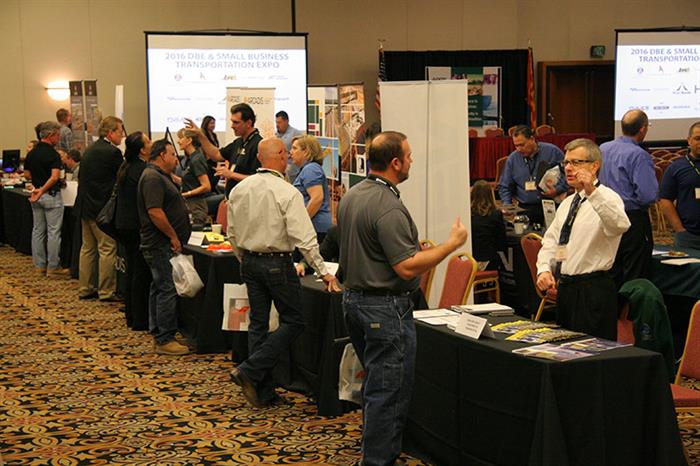 By Angela DeWelles / ADOT Communications
ADOT's Disadvantaged Business Enterprise program received some recent recognition that we want to tell you about. But first we should probably give you a few details on the program itself, as it's possible you're not too familiar with it.
ADOT established its Disadvantaged Business Enterprise program in accordance with U.S. Department of Transportation regulations. All state DOTs receiving federal project funds must have programs to ensure qualifying small businesses owned by individuals from socially and economically disadvantaged groups, including women and minorities, have an equal opportunity to participate on transportation projects.
ADOT's DBE program ensures nondiscrimination in the award and administration of USDOT-assisted contracts by creating a level playing field for qualifying small businesses, says ADOT Business Engagement and Compliance Manager Vivien Lattibeaudiere.
She explains that there's a lot to the DBE program, including goals for contracts, regular studies, certifications and a program plan that must be updated every three years. That plan outlines everything about a DOT's DBE program and must be approved by the USDOT and the Federal Highway Administration. ADOT's DBE Program Plan is also the subject of that recent recognition we mentioned at the top of this post…
In a USDOT/FHWA report released in at the end of 2015, ADOT's plan was highlighted as a model that could be used to improve the organization and clarity of other state plans. Arizona was one of just eight states whose plan was recognized in the report.
"Our program plan is a good model," Lattibeaudiere said. "It basically tells how we plan to meet all the requirements that are laid out in the regulations."
ADOT hosts a number of training events, conferences and workshops each year to provide disadvantaged business enterprises and small businesses with information and contacts.
"We help small businesses compete on federal aid projects," said ADOT DBE Supportive Services Program Manager Kent Lane.
At the DBE & Small Business Transportation Expo, held last month at the Glendale Civic Center, ADOT and partner agencies, including the city of Phoenix and Valley Metro, hosted the event that allowed attendees to learn about project opportunities while networking with industry professionals. The photo above shows that event.
"ADOT is committed to providing equal opportunity to businesses wishing to help build and sustain Arizona's transportation infrastructure," ADOT Director John Halikowski said. "In federal fiscal year 2015, ADOT alone awarded $40 million in contracts to Disadvantaged Business Enterprises."
Find out about upcoming events on our website.