ADOT's environmental stewardship during migratory bird season
ADOT's environmental stewardship during migratory bird season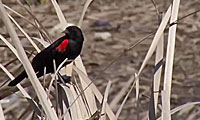 We've blogged about a lot of those steps, including the planning, the multiple surveys, the focus on cultural preservation and the environmental clearances that must be met prior to the start of construction.
But what about after a project is finished?
Good question! It turns out there's also an extensive effort to reduce effects on the surrounding environment as ADOT maintains its roads and structures.
Environmental coordinators are assigned to each district and, as you can see in the video, they assist maintenance and construction crews in complying with laws concerning clean water, clean air, endangered species, migratory birds and more.
While today's video focuses on ADOT's environmental stewardship during migratory bird season, Phoenix District Environmental Coordinator Lisa Andersen says that her job has a lot of variety.
On a given day she might be conducting a storm water inspection on a maintenance construction project or communicating with the U.S. Forest Service about vegetation. Reviewing environmental clearances and storm water encroachment permits, inspecting ADOT maintenance yards and checking ADOT washes for mosquitoes are all tasks that are part of the job.
Andersen says the primary goal is the safety of the traveling public and staff, "but we want to do our activities so that we're really taking care of the resources when and where we can."
For more on ADOT's environmentally conscious practices, check out some of our previous posts.