For ADOT's statewide road weather manager, showing beats telling during storms
For ADOT's statewide road weather manager, showing beats telling during storms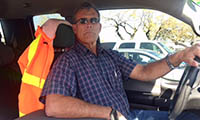 By Peter Corbett / ADOT Communications
When snowstorms clobber Arizona and it's wise thing to stay warm by a fireplace, Mark Trennepohl hits the road to find where snow, ice and wind are affecting travel on state highways.
Trennepohl, ADOT's statewide road weather manager, ventures out in his four-wheel drive truck with a push-bar, tow-straps and flashing amber lights to see conditions on Interstate 17 near Stoneman Lake, Interstate 40's Ash Fork Hill west of Williams and other highway stretches where snow is forecast. Then he records and explains what he's seeing for use on ADOT's social media channels.
Maybe you've seen his videos, shot with a dash-mounted camera and narrated with plain-spoken warnings about treacherous road conditions and explanations of what ADOT plow crews are doing. The messages, punctuated with the slap of windshield wipers, are posted on ADOT's Facebook and Twitter feeds. From there, they've been featured on local television newscasts and even The Weather Channel.
Trennepohl is a voice of reason and reassurance when storms turn ugly and travelers need information on road conditions.
"Take your time and you'll be OK," he says to end this Feb. 27 video after providing an assessment of I-17 conditions and tips on winter driving.
The distinctive voice in his videos comes out of his northwestern Nebraska hill country roots and what he calls "a little bit of hillbilly from the creek bottom."
The weather-video narration is his spontaneous description of what he's seeing on the highway, both the conditions and the efforts of ADOT plow crews, along with safety suggestions.
"You can be driving along in a situation where the road is black and wet, and then you get in a protected area and slush is collecting on the road," Trennepohl told me recently. "Drivers panic, hit their brakes, lose steering control and bad things happen."
In the winter of 2016-2017, Trennepohl started taking some videos with his phone to show during winter-readiness training sessions for ADOT employees. Since some of his videos explaining blizzard conditions in the White Mountains made ADOT's social media feeds in January 2017, getting a strong reaction from the public and news media, he's been doing more and more aimed at giving a real-time view of what's happening during snowstorms.
A constant theme in these videos is the need for drivers to slow down, something he shares in this Feb. 23 update from SR 64 just south of Grand Canyon National Park.
He offers analysis of how snowstorms behave in especially challenging areas such as the steep section of I-17 north of the Sedona turnoff at SR 179, SR 260 at Sunrise Mountain in eastern Arizona and the uphill stretch of eastbound I-40 on Ash Fork Hill approaching Williams, where he shared this Feb. 23 video explaining what ADOT plow drivers face when snow accumulates quickly.
Trennepohl took a winding path to his job as ADOT statewide road weather manager, He's from Rushville, Nebraska, and was riding horses by age 7. He ran an auto parts store in tiny Whiteclay, Nebraska, near the Pine Ridge Reservation in South Dakota. Then he headed west in 1995 to Farmington, New Mexico, to work at San Juan Community College. He taught students to repair diesel engines and heavy equipment for 13 years and earned a master's degree along the way.
He's been with ADOT for a decade, serving ;as maintenance shop supervisor and deputy operations manager, overseeing 28 facilities maintaining more than 10,000 vehicles, and as winter operations support manager for four years before his role expanded in December to include all kinds of weather. In this video from two winters ago, Trennepohl explains ADOT's use of a TowPlow on I-40 west of Flagstaff.
Outside observers might think that plowing snow in a desert state is a cake job, and Trennepohl said he gets teased about that.
"But it's not all cactus and rocks here," he said. "Arizona can get snow on about 70 percent of its highway miles."
Trennepohl carries sand for traction and tow straps he uses to get 80,000-pound semis started up a slippery slope (he describes some of his gear in the tweet below). He works long hours during snowstorms and covers hundreds of miles watching a storm.
For an upcoming ADOT Blog, we interviewed Mark Trennepohl, ADOT's statewide road weather manager and the voice on those dash-cam videos we share during snowstorms. In this video, he explains gear he carries in his truck to help stranded vehicles. pic.twitter.com/yqDNTO9DWs

— Steve Elliott (@elliott602az) March 1, 2018
"Often storms outperform the forecasts on the Mogollon Rim," he said. "We can get 2 to 3 inches of snow per hour along the rim all the way to New Mexico. And we can see thunder-snow and lightning.
"I often say a prayer for the plow drivers."