After first taste of snow, get ready for even more in Arizona's high country
After first taste of snow, get ready for even more in Arizona's high country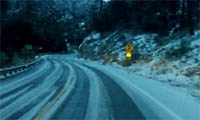 By Ryan Harding / ADOT Communications
Arizona saw its first snow accumulations of the season this weekend. With that snow came the season's first narrated video of winter driving conditions (see above) by Mark Trennepohl, ADOT's winter operations manager. His trip up Catalina Highway, which isn't a state road, provides a preview of what's coming to Arizona's high country.
While it didn't drop a lot of snow, this first storm is a reminder that winter is here. That can mean roads slick with snow and ice, as shown in the photos from SR 87 at Clints Well (above) and Catalina Highway (below).
When driving in these kinds of conditions, be sure to slow down and avoid sudden braking or acceleration. Also, leave extra room between your vehicle and the vehicle in front of you. Remember, the larger the vehicle, the longer the stopping distance.
Frost and ice will always form on bridge decks first and is hard to see, so be cautious approaching bridges and overpasses.
When bigger storms are in the forecast, consider delaying travel until after the worst passes, as conditions and visibility can change very quickly in a snowstorm.
Delaying travel also gives our snowplows time to clear highways of snow and ice. Dealing with stranded vehicles gets in the way of that vital work.
You can visit azdot.gov/KnowSnow for more tips on driving in winter conditions.
Meanwhile, winter storms can create challenging driving conditions even at lower elevations, as the video below shows. Many of the same safety tips apply on wet roads: Slow down, avoid sudden braking, leave yourself plenty of room behind the vehicle ahead.